markets
Italy Handed Bank Bondholders a Bailout and a Bunch of Questions
By
Bank clean up may have protected senior bondholders at a cost

Political, legal uncertainty returns to vital funding market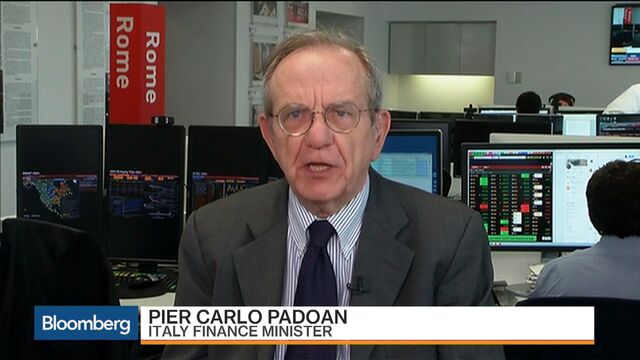 To keep senior bondholders happy as they rescued two failed banks over the weekend, Italian regulators found an elegant solution: they put them beyond the reach of EU law.
That's no cause for celebration, according to Paul Smillie, a Singapore-based analyst at ColumbiaThreadneedle, which manages about $467 billion globally including bank bonds of peripheral nations that rallied following the news.
Instead, the decision revives concerns that the market for European bank debt might be ruled by the vagaries of individual political systems. It also injects uncertainty into a market that's crucial for the smooth operating of the region's financials, potentially making it more difficult to value bank bonds less than three weeks after Europe's resolution authority stepped in to tidily wind down Banco Popular Espanol SA without the use of government funds.
"What's becoming clear as an investor is bank risk is as much down to the attitudes of local politicians as it is down to the law," said Smillie. "Politicians are less inclined to apply the new rules and more inclined to spare senior bondholders. They've gone to extreme lengths to avoid senior bondholders taking a haircut."
Loophole
The EU's decision to let Italy spend up to $19 billion to wind down Banca Popolare di Vicenza and Veneto Banca by labeling them not significant for financial stability exploited a loophole that means senior creditors stayed above the fray. The decision marks the third test of Europe's new rules this year in which senior creditors escaped losses, with the country's willingness to tap taxpayers giving short shrift to EU bank rules that seek to shift the burden of failed banks to private lenders.

The bailout kept alive the funding lifeline for European financials big and small, and meant bank bonds barely registered a hiccup, with prices in an index of credit-default swaps on senior bank debt actually gaining after the move. For that reason, others lauded Italy's decision given the importance of senior funding in bank capital structures.
"The Italian solution is a pragmatic one, reflecting the wish to protect senior debt, much of which is owned by private individuals," wrote analysts at CreditSights Inc. led by Puja Karia. "Both this story and that of Banco Popular cement our view that there is no 'one size fits all' when it comes to bank failures."
But with Italy's rescue circumventing the Bank Recovery and Resolution Directive, the centerpiece of the EU's crisis-fighting regime, the market now faces more political risk, not less, according to Smillie. 
"We thought the legal risk had declined; this shows the political and legal risk at the senior level is very much alive," he said. "It becomes a much more complicated equation."
Before it's here, it's on the Bloomberg Terminal.
LEARN MORE