business
Gawker Bankruptcy Judge Allows Probe of Peter Thiel, Lawyer
By
'Litigation financing agreement' may be subject of inquiry

Media firm went under after settling Hulk Hogan sex lawsuit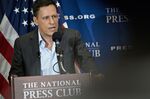 The administrator of Gawker Media LLC's bankruptcy estate can examine Peter Thiel and his relationship with a lawyer, Charles J. Harder, over their role in the company's demise, a judge ruled.
Settlements the defunct media firm made with the professional wrestler Hulk Hogan and other parties who sued it, allegedly with financial support from Thiel, limit the scope of an examination, U.S. Bankruptcy Judge Stuart Bernstein said in the order entered in Manhattan court Wednesday. He directed the parties to confer and create an order limiting the requests.
One subject of the probe could be "litigation financing agreement(s) relating to the lawsuit or claims in the lawsuit, and any non-privileged retainer agreements with Charles J. Harder, Esq. or the law firm of Harder Mirell & Abrams LLP," Bernstein said in the order.
Gawker wound down in bankruptcy last year by settling the lawsuit brought by Hogan, which had forced it into Chapter 11, and selling its most attractive properties to Univision Holdings Inc.
The battle between Gawker and Hogan, and Gawker and Thiel in turn, raise important questions about privacy in the digital era. Gawker has also said the ability of a billionaire to use the legal system for a personal vendetta -- as it alleges Thiel did -- raises a public policy issue. 
Video Excerpts
The Hogan settlement resolved a $130 million judgment that the entertainer won against the company and its founder, Nick Denton, in a lawsuit over the publication of video excerpts of Hogan having sex with a friend's wife.
According to Gawker, Thiel had it in for the company since 2007, when it outed him as gay. Thiel, who sits on the board of Facebook Inc., has since publicly acknowledged that he's gay and called Gawker's now-defunct blog Valleywag the "Silicon Valley equivalent of al-Qaeda."
Thiel acknowledged that he funded Hogan's suit, and Gawker's plan administrator speculated based on press reports that he also funded other lawsuits in which his lawyer, Harder, participated, according to Bernstein's order.
The bankruptcy is In re Gawker Media LLC, 16-11700, U.S. Bankruptcy Court, Southern District of New York (Manhattan).
(
Updates with details of order beginning in third paragraph.
)
Before it's here, it's on the Bloomberg Terminal.
LEARN MORE