business
Brexit Bulletin: Trouble at the Top
By
Divisions emerge at high levels of U.K. Cabinet over Brexit

Chancellor Hammond "trying to discourage talk of cake"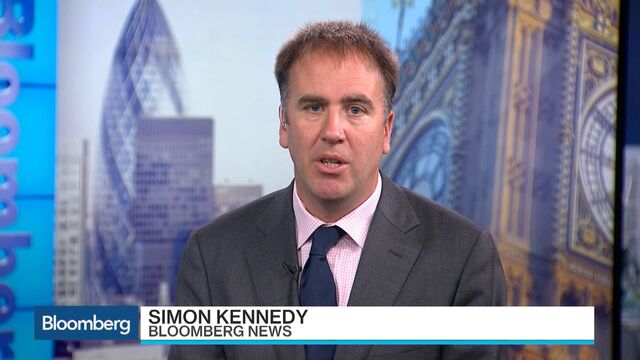 Sign up to receive the Brexit Bulletin in your inbox, and follow @Brexit on Twitter.
Cracks over Brexit began to emerge in Theresa May's cabinet as top ministers outlined competing visions for Britain's split from the European Union.
Brexit Secretary David Davis accused Chancellor of the Exchequer Philip Hammond of taking inconsistent positions on whether the U.K. should seek a bridging deal, which could mean remaining in the customs union for years after the U.K. is due to quit. Meanwhile, Hammond mocked Foreign Secretary Boris Johnson's referendum campaign pledge that Britain could "have its cake and eat it."

The public divisions suggest that May is finding it difficult to keep control of her Brexit strategy following this month's election flop. They also risk complicating negotiations with the EU, where officials have long complained that multiple voices speaking out on Brexit means Britain lacks a unified approach.
Euroskeptic Davis insisted the U.K. was likely to quit the customs union on the first day of Brexit in March 2019. But speaking in Germany, Hammond restated his view that a lengthier transition period would be required to help businesses avoid a cliff-edge shift in their trading arrangements.
Speaking at a conference organized by The Times newspaper, Davis described Hammond's record of comments on the potential timescale for Brexit as "not quite consistent."
"What he's actually said, the most important thing is it's got to be done before the election so that's a maximum of three years," Davis added, insisting the two officials were "entirely aligned."
Meanwhile, Hammond said he was "trying to discourage talk of cake among my colleagues."
"The question is not whether to have cake, or eat it or even who has the largest slice," he said. "The question that matters is whether we can be smart enough to work out how to continue collaborating together to keep the cake expanding for the benefit of all."

The Other Opposition
May also faced challenges from more traditional sources: the Labour Party and the Scottish National Party.
In the wake of the inferno at a London high-rise apartment building and a wave of terrorist attacks, opposition Labour leader Jeremy Corbyn will put forward a motion in Parliament demanding an end to years of cuts to public services.
Lawmakers will debate and vote on whether to attach the amendment to legislation regarding May's program for government. The vote, expected Wednesday evening in London, will be the first key test of May's power since she lost her majority in the House of Commons.
Elsewhere, Scottish First Minister Nicola Sturgeon said she will pivot from pushing for a second independence referendum to getting the best Brexit deal.
Her party  will "put our shoulder to the wheel in seeking to influence the Brexit talks in a way that protects Scotland's interests," Sturgeon said.
She vowed to revisit the possibility of splitting with the U.K. once the terms of Brexit are known. The decision to ditch the timetable announced three months ago came after voters turned away from the SNP in this month's election.
Carney Tells Banks to Act
Bank of England Governor Mark Carney reiterated on Tuesday that banks need to not only establish contingency plans for Brexit, but activate them too.
As the central bank announced it intended to increase capital requirements for banks, it also said it will oversee their plans for a "range of possible outcomes" from Brexit.
It warned some scenarios, including the U.K. crashing out with no financial deal in place, could affect financial stability and create a "challenging trade-off for monetary policy." Falling trade would hurt the economy, while a weaker pound would fan inflation.
Higher capital requirements may help Carney delay interest rate increases, economists said. Bloomberg Gadfly's Marcus Ashworth agrees. 
Later in London, Federal Reserve Chair Janet Yellen said uncertainty was likely as Brexit progresses.
Brexit Outlook
The Bloomberg Brexit Barometer slipped after European officials rebuked Britain for not going far enough to guarantee the rights of millions of EU citizens after Britain leaves. The barometer was at 17.6, remaining in "windy" territory.

Brexit in Brief
Polish Deputy Foreign Minister Konrad Szymanski criticizes the U.K.'s proposal on rights for EU nationals after Brexit
Nomura Holdings applies for license to operate a unit in Frankfurt to service EU clients after Brexit
Deutsche Bank hires Michael Morley, a former Coutts CEO, to head U.K. wealth management operations and service rich clients as Brexit nears
Charles Grant of the Center for European Reform outlines how the election might mean a softer Brexit
The government establishes a panel of major business groups including the Confederation of British Industry to meet fortnightly and advise on Brexit
Policy Exchange says official estimates from the U.K. Treasury and the International Monetary Fund on the economic impact of Brexit were "overly pessimistic"
Unraveling European law and enshrining new U.K. law after Brexit is the "most complex" legal challenge the country has confronted, says Lord Chief Justice John Thomas
Banks aren't likely to bolt the U.K. just yet, Satyajit Das writes for Bloomberg View.
And Finally…
Euroskepticism is on the rise in the U.K., according to new study by the National Centre for Social Research.
Three quarters of those surveyed said Britain should either leave the EU or ensure the bloc's powers are reduced if stays. That's up from 65 percent two years ago.
Views on immigration have also become more polarized. The young and highly educated are more likely than ever to favor immigration as a benefit to the economy, while older people and non-graduates are more likely to say immigration is bad for growth.
For more on Brexit follow Bloomberg on Twitter, Facebook and Instagram
Before it's here, it's on the Bloomberg Terminal.
LEARN MORE