Brazil Stops Issuing Passports in Budget Dispute
By
Government asking Congress for more funds to restore service

Carwash prosecutor says government is suffocating the police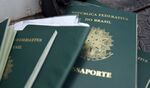 Brazil's federal police has halted issuing new passports on the eve of school vacations, citing insufficient funds.
The federal police has exhausted its budget for immigration control and travel documents and won't be able to restore the service until additional funds are approved, it said in a statement. The government is requesting an additional 102 million reais ($31 million) for the production of passports from Congress, the planning and budget ministry said in a statement Wednesday.
The institution leading the so-called Carwash corruption investigation had a substantial portion of its budget frozen this year as the government seeks to curb expenditures amid a steep fall in tax revenue. While Justice Minister Torquato Jardim has said the freeze doesn't hurt operational capacity, an organization of federal police investigators said their ability to investigate has been affected.
"The suspension of passport issuance is perhaps the most visible aspect of the dismantling the federal police is suffering," the police association said in a statement.
Carlos Fernando dos Santos Lima, a federal prosecutor at the Carwash probe, said on Facebook the government is attempting to "suffocate" the police.
The justice ministry didn't immediately reply to a request for comment. The federal police said it won't make additional comments on its budget situation.
Before it's here, it's on the Bloomberg Terminal.
LEARN MORE