BofA's Dividend to Rise Above Buffett Target for Stock Swap
By and
Bank boosting payout after passing Federal Reserve stress test

Berkshire holds warrants after $5 billion BofA investment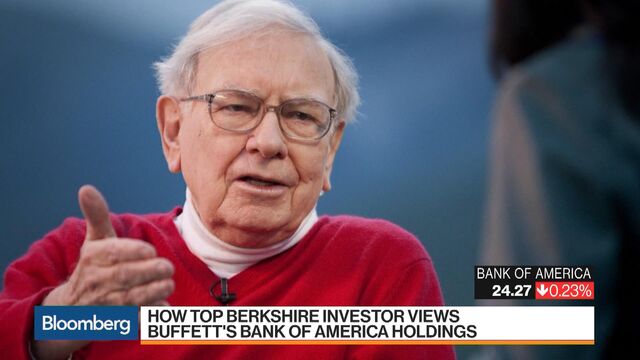 Bank of America Corp. plans to lift its dividend above a level that Warren Buffett said would compel him to convert preferred shares into the lender's common stock.
The bank said Wednesday that it expects to increase its dividend by 60 percent to 12 cents a quarter -- or 48 cents annually -- after receiving Federal Reserve approval of its capital plan. At that level, it'd be more lucrative for Buffett's Berkshire Hathaway Inc. to hold common shares than its preferred stake in the Charlotte, North Carolina-based lender.
If the BofA dividend "should rise above 44 cents before 2021, we would anticipate making a cashless exchange of our preferred into common," Buffett wrote in a letter to shareholders in February.
Such a conversion may not happen immediately. Bank of America's higher dividend wouldn't go into effect until the third quarter. That means that Buffett would make more money by holding onto the preferred shares for the time being. Those securities have their next payout in July.
Berkshire's billionaire chairman and chief executive officer made the $5 billion preferred investment in Bank of America in 2011 and received warrants to buy 700 million shares of the company for $7.14 apiece. The capital injection was a vote of confidence at a critical juncture. Bank of America's shares were plunging as it struggled to work its way out from under the weight of legal settlements and other costs tied to the housing-market bust.
With backing from Buffett, the lender's shares soon rebounded. That generated a massive paper profit on the warrants. The stock closed at $23.88 on Wednesday, implying that Berkshire's common shares would be valued at $16.7 billion. Buffett's company has also collected more than $1.5 billion in dividends from the preferred stake.
The episode highlighted the billionaire's role as a financial firefighter and mirrored confidence-boosting investments he made in Goldman Sachs Group Inc. and General Electric Co. during the 2008 crisis. In those cases, he was also able to extract generous terms in exchange for vouching for those companies' long-term prospects.
Buffett didn't immediately respond to a request for comment sent to an assistant. Bank of America declined to comment.
Before it's here, it's on the Bloomberg Terminal.
LEARN MORE