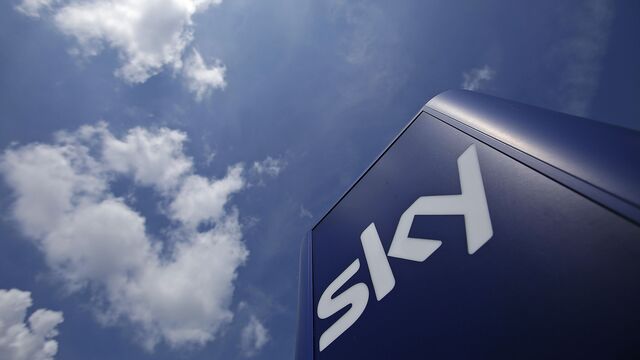 Rupert Murdoch finds out today whether his 11.7 billion-pound ($14.9 billion) bid to buy the rest of Sky Plc is likely to go ahead, six years after a previous attempt was sunk by a phone-hacking scandal. U.K. Culture Secretary Karen Bradley is expected to tell Parliament at 11:30 a.m. London time what she intends to do about the takeover by 21st Century Fox Inc., having received reports from U.K. regulators on the tie-up. Uncertainty whether Fox, which already owns 39 percent of Sky, will succeed has caused Sky shares to trade at a discount to the offer price.
1. What are regulators looking at?
Bradley's decision will be guided by reports she received from U.K. regulators last week. Ofcom, the telecommunications watchdog, investigated whether the transaction is in the public interest, with a specific focus on the impact on media plurality and Fox's commitment to broadcasting standards. Ofcom also looked at whether Sky under the full control of Murdoch's Fox would continue to be a fit and proper owner of a broadcasting license -- essentially a "good character" review.
2. What are Bradley's options?
In her quasi-judicial role, Bradley will say she intends to do one of three things: approve the bid, approve subject to conditions, or call for a deeper review by regulators. In the second case, Bradley could seek concessions like safeguards around the editorial independence of Sky News, should Ofcom say the tie-up may harm media plurality in the U.K. That solution wouldn't be new: the previous bid for Sky was challenged by Ofcom on those grounds in 2010, with Murdoch's News Corp. then offering to spin off Sky News as an independent public limited company in lieu of the bid being referred for further study. If Bradley decides to refer the bid, the baton passes to the Competition & Markets Authority, which would conduct further investigation of any of Bradley's concerns and report back within six months.
3. What's the case against the deal?
Critics such as former U.K. Labour Party leader Ed Miliband say the deal would give the billionaire's family too much influence over U.K. media. Rupert Murdoch is co-chairman of Fox and executive chairman of News Corp., which owns the British newspapers the Times, the Sunday Times and the Sun, the U.K.'s second most-read print newspaper. His son James is chief executive officer of Fox and chairman of Sky, whose Sky News is the fifth-most-used news source across all platforms in the U.K., according to a 2015 Ofcom report. On broadcasting standards, opponents of the tie-up say that the phone hacking at News International, a former division of News Corp., and ongoing civil cases against some of its newspapers raise questions about the suitability of the Murdochs to have increased control over Sky. While neither News Corp., Fox nor the Murdochs were ever charged in relation to phone hacking, Bradley has flagged concerns over "serious" corporate governance failings.
4. What's the case for letting it go through?
Fox argues that it no longer holds any newspaper assets, following a 2013 restructuring that placed the titles in News Corp., a separate company, the majority of whose shareholders and board members are independent. Fox also argues that media plurality has increased since it last tried to buy Sky, driven by increased news consumption through social media. In 2012, News Corp. revamped its ethics program and brought in a new general counsel, Gerson Zweifach, and appointed John McCoy and Brian Michael as executives to focus on compliance. All three are now with Fox.
5. What's the market saying?
Sky shares closed at 9.57 pounds on Wednesday in London, leaving the stock 11 percent below Fox's offer of 10.75 pounds per share. Sky's shares have traded consistently around that level since the deal was announced, reflecting the ongoing uncertainty about its fate. The spread is more than double that seen when Liberty Global Inc. bought U.K. cable-television provider Virgin Media Inc. in 2013. Then, the spread ranged from just above 3 percent when the deal was announced, to close to zero as closing approached. Both Sky and Fox have rallied recently as U.K. Prime Minister Theresa May cut a deal that would keep her Conservative Party in power after a June 8 election (and keep Murdoch critics in the Labour Party out). "Our view is that the chances of a referral of the deal to the Competition and Markets Authority for a lengthier investigation has increased given the current political circumstances," say analysts led by Ian Whittaker at Liberum.
6. Why does Murdoch still want the deal?
He has long coveted full ownership of Sky, having founded Sky Television in 1989 before reducing his stake to 39 percent in 1994. The deal would give him control of one of the most powerful pay-TV distribution platforms in Europe. A tie-up would also broaden Fox's revenue streams, increase its geographic diversity and bolster its portfolio of drama and sports content.
7. What happened last time?
Murdoch pulled the last deal in 2011 after his empire was engulfed by a corruption scandal triggered by revelations that journalists at his News of the World tabloid had hacked into the voice-mail messages of a murdered schoolgirl. The sleazy tactics raised questions about management oversight and exposed the sometimes-cozy relationship between his media outlets and the government. Fox says it has transformed its corporate governance practices and learned lessons from the investigations. The media landscape has changed, too, with new distribution channels like Twitter and Facebook potentially defusing concerns about concentration of media ownership.
The Reference Shelf

Before it's here, it's on the Bloomberg Terminal.
LEARN MORE