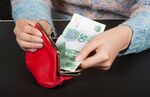 Chinese banks are in an unusually strong position, although you wouldn't know it to look at their shares.
Concerns that bad-loan levels are worse than lenders are confessing to, combined with fears the country's fintech giants, including Alibaba Group Holdings Ltd. affiliate Ant Financial, are disrupting operations, have weighed on stocks.

Investors shouldn't worry.
For one, bad-debt figures, if you believe them in the first place, are coming down. And even if you do think nonperforming loans have been understated, what's undeniable is that the country's big banks have been shifting into mortgage lending, which has a lower default rate than the state-firm lending that's long been their bread and butter. The nonperforming loan ratio of a mortgage in China is 0.37 percent, one sixth of a corporate advance, according to CIMB Securities Ltd. analyst Michael Chang.
It's true that China's fintech players, from Jack Ma's Alipay to Tencent Holdings Ltd.'s WeChat Pay, dominate the nation's mobile-payments market. But retail payments are a business that banks have historically managed very well without. According to Lillian Li, a senior analyst at Moody's Investors Service, just 3 percent of revenue at the 10 Chinese banks the firm rates comes from fees from credit cards, which in China still aren't widely used. There are only 0.31 credit cards per capita on the mainland, compared with about three per person in developed countries.
That leaves wealth-management products like Ant Financial's Yu'E Bao, now the world's largest money-market fund, as a magnet for savings. But again, it's worth remembering that most savings in China sit with the major banks, at least for individuals. People's salaries go into their bank accounts, and if they want to shift money onto platforms owned by Ant Financial or Tencent, a fee of around 10 basis points is charged.
Of course, fintech companies getting into the lending business is cause for concern. Alipay's consumer credit site Ant Check Later will lend up to a certain amount without needing to see bank records, while e-commerce outfits like JD.com Inc. allow monthly payment installments that blur the line between bank and retailer.
However, it's worth noting that lending is a business with thin margins, and figuring out default risk is crucial, especially considering many fintech startups cater to those people the big banks won't touch. When the market turns, a wide funding base and low borrowing costs are key, as the collapse of Egg in the U.K. and the travails of LendingClub Corp. in the U.S. show.
And on the borrowing front, China's big banks are hard to beat. Their cost bases are among the lowest in the world. What's more, headcount was reduced by about 1 percent last year, and branches were shuttered, further decreasing expenses.

Slow to the game initially, large lenders are now making technology work for them, such as deploying big data to sell wealth-management products. China Merchants Bank Co. launched an app earlier this year while Postal Savings Bank of China Co. is adopting blockchain technology in its custodian business, according to JPMorgan Chase & Co. Consumers keen on buying wealth-management products from banks, still the most popular out there, must physically go into a branch to sign risk-assessment forms, putting online-only operators at a disadvantage. 
At some point, partnerships between fintech firms and big banks are inevitable, as has been the case in the West. Fintech operators also face the added challenge of being under constant scrutiny from regulators, so making friends with state-owned financial institutions wouldn't hurt.
For now, though, old-economy banks in China reign supreme.
Before it's here, it's on the Bloomberg Terminal.
LEARN MORE