business
Brexit Bulletin: Citizenship Test for May
By
Barnier calls for more ambition and clarity from May on EU nationals

May's proposal leaves unanswered questions for businesses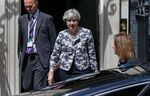 Sign up to receive the Brexit Bulletin in your inbox, and follow @Brexit on Twitter.
The first battle of the Brexit negotiations is underway.
In a sign of how contentious the talks will prove, the European Union on Monday wasted little time in rebuking Britain for not going far enough to guarantee the rights of millions of EU citizens after Britain leaves.
"More ambition, clarity and guarantees needed than in today's U.K. position," EU chief negotiator Michel Barnier said on Twitter. The bloc's goal is for the "same level of protection as in EU law," he said.
The response to a 20-page proposal from the U.K. government is a blow to Prime Minister Theresa May's hopes for the swift deal which would help open the way to the start of discussions of a trade accord.

In a plan she called "fair and serious" and which she wants reciprocated for Britons living in the bloc, May said Europeans who have been living in the U.K. for five years will get a new "settled status" after Brexit. That will allow them to be treated as if they're British for the purposes of receiving state education, health care, benefits and pensions. 
Among the concessions May made were allowing EU nationals to send welfare payments to children living elsewhere and telling them they won't have to prove they have comprehensive sickness insurance when seeking residency. There was also an offer to make unilateral guarantees on the indexation of EU nationals' pensions and a commitment to streamline the application process.
A "grace period" of up to two years in which applicants can get their papers in order was also suggested in a possible template for a post-Brexit transition. Brexit Secretary David Davis on Tuesday made the case for May's plan in newspaper columns throughout the EU.
Still, the British continued to signal that the European Court of Justice should have no say in post-Brexit Britain and the document said EU nations will no longer be able to bring in non-EU family members more easily than British citizens can. Both will prove sticking points with the EU, as will the date of the cut-off — which is still to be decided.
May's pitch will disappoint those businesses that want greater certainty for their current employees and the ability to hire foreign labor in the future. Bureaucracy is likely to increase.
"Employers who are reliant on EU staff and are focusing on their future staffing needs are going to need to work harder than ever to support their staff," said Stephen Ratcliffe, a partner at law firm Baker McKenzie.
DUP Deal
It was an expensive day at the office for May on Monday as she pledged £1 billion in additional funding for Northern Ireland in return for the Democratic Unionist Party agreeing to support her minority party in key parliamentary votes.
The pact drew criticism in the British newspapers on Tuesday, including those that usually support the Tories. The Daily Telegraph used the word "grubby" in its headline and the Times reported accusations of a "bung."

May's Conservatives will also have to tear up election manifesto commitments to curb increases in pensions and to cut winter fuel payments to pensioners. The 10 DUP lawmakers will also support May's Brexit laws, "in line with the parties' shared priorities for negotiating a successful exit."
The first test of the agreement will come this week, when votes are due to be held on May's legislative agenda for the next two years. The Tories and the DUP together have 327 of the 650 seats in the House of Commons, while parties opposed to May have 314 seats.
The risk for May is that the DUP prove an unreliable partner and come seeking more for their support. Their role may also annoy the moderate Tories most likely to question Brexit.
Brexit in Brief
The escape bill for Brexit shouldn't be more than £26 billion, says Institute for Economic Affairs
Brexit blues haven't struck six-year-old San Francisco-based startup Intercom, which is planning to open its first London office this year
47 percent of highly skilled EU workers are considering leaving the U.K. in the next five years, according to Deloitte
Deutsche Bank asset management arm purchased two London office buildings from M&G Real Estate for £310 million pounds in a bet that Brexit won't hurt the market in the long run
An index of consumer confidence dropped to 106.9 in June, a level only slightly higher than its post-referendum low, according to YouGov and the Centre for Economic and Business Research
Netherlands should loosen its current bonus cap for bankers in order to draw companies from London, says the Confederation of Netherlands Industry and Employers
Existing EU insurance policies should stay in place after Brexit, Lloyd's of London Chief Executive Officer Inga Beale tells Reuters
American investment bank Oppenheimer plans to grow its corporate finance and debt capital markets business in Europe after the Brexit vote
Prince Charles will use his friendship with world leaders to boost post-Brexit trade, according to The Sun.
And Finally…
Former Prime Minister David Cameron took to Twitter on Monday to rally Conservatives behind the DUP deal.
The Tweet may have been missed by his friend and former Chancellor, George Osborne, who now edits London's Evening Standard.
The newspaper continued its recent trend of critiquing May, who fired Osborne from her Cabinet last summer.
For more on Brexit follow Bloomberg on Twitter, Facebook and Instagram
Before it's here, it's on the Bloomberg Terminal.
LEARN MORE