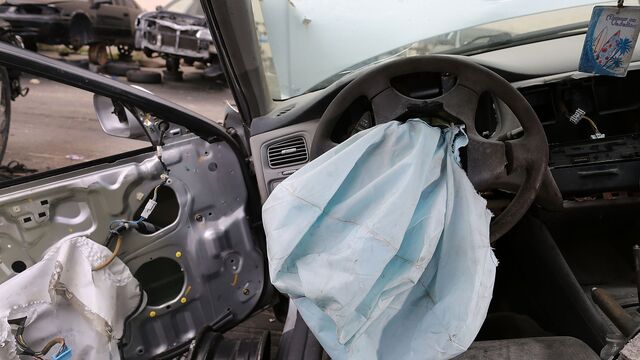 Takata Corp.'s bankruptcy filing marks the beginning of the end of the company's 84-year history, but its airbag recalls will live on for years to come. The Japanese auto supplier provided tens of millions of defective airbag inflators to the world's largest automakers for years. The parts can explode violently in a crash, spraying vehicle occupants with metal shards. The defect is linked to at least 17 deaths worldwide and some 184 injuries in the United States alone. Some 43 million inflators have been recalled in the U.S. and more than 100 million are eventually expected to be recalled worldwide. Millions of the defective parts are still in circulation and carmakers are racing to swap them out for safe components. Mounting liabilities from the callbacks have forced the company to seek a buyer, and a bankruptcy may facilitate that sale.
1. What's wrong with Takata's inflators?
An airbag inflator is a small metal canister containing propellant that, when ignited in a crash, produces a gas to inflate an airbag in a fraction of a second. In the late 1990s. Takata began making airbag inflators with propellant based on ammonium nitrate, a widely-used chemical explosive. Takata prized it for its low cost and abundance. But the chemical is inherently difficult to keep stable over time, which is why it wasn't used by other airbag manufacturers. Independent investigations have concluded that several years of exposure to hot, humid climates can render the ammonium nitrate propellant unstable and lead to violent combustion. This has resulted in Takata airbags igniting with too much force, shattering the metal inflator housing and spraying vehicle occupants with metal shards like a grenade.
2. How will Takata's bankruptcy affect the recalls?
They will continue. In the U.S., rival airbag makers are supplying more than 70 percent of the replacement inflators used in the recalls. Recalls in Japan are more than 70 percent complete. There's a risk that supplies coming from Takata could be interrupted if the proceeds from a sale of Takata's desirable assets fail to cover its recall costs down the road. If that happens, automakers may have to pay to keep Takata's assembly lines going.
3. Are more recalls coming?
Yes. In the U.S., millions more Takata inflators will be recalled through at least 2019. The recalls will be rolled out in waves, channeling safe parts first to cars with the greatest risk of an inflator rupture. In addition, some of the early Takata-made replacements will need replacing again because they may have the same defect as the parts they replaced.
4. How can drivers find out if their car is under recall?
U.S. drivers can log onto www.safercar.gov to search for recalls affecting their car using its 17-digit vehicle identification number, which is located on the driver's side of the dashboard near the windshield. As with any recall, a new car dealer will know if replacement parts are available and can schedule an appointment for the repair, which is free of charge.
5. Do drivers have other options? Can they sue?
Yes. Bankruptcy court protections stall lawsuits against Takata, both new and pending ones. But customers can still sue the car companies. Even though the defective airbags are made by Takata, automakers are on the hook because it's their responsibility to sell a safe product. Winning punitive damages may be difficult though, because the car companies could blame Takata. Takata admitted to hiding the risks posed by its exploding airbags as part of a plea deal reached in February with U.S. prosecutors in which it agreed to pay regulators, consumers and carmakers $1 billion in penalties.
The Reference Shelf:

Bloomberg Businessweek explores the Takata crisis in a cover story.
Bloomberg News covers the indictment of Takata executives, audits showing that engineers manipulated airbag data and how the crisis has exposed flaws in the U.S. auto recall system.
A Congressional Research Service report on U.S. auto safety standards.
— With assistance by Margaret Cronin Fisk
Before it's here, it's on the Bloomberg Terminal.
LEARN MORE