Toshiba Chip-Unit Bidders Said to Push Back Final Agreement
By
Deal may be delayed because of due diligence, Western Digital

Toshiba seeking to sell memory chip unit to make up for losses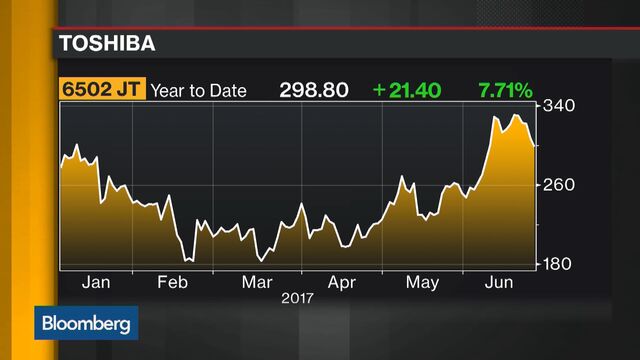 Toshiba Corp.'s announcement of a final agreement to sell its memory chip business may be delayed beyond the electronics maker's self-imposed deadline this week, as Bain Capital and Japanese investors work out the structure of the deal, people with knowledge of the matter said Monday.
When announcing the preferred bidders last week, Toshiba said it planned to reach an agreement by Wednesday, June 28, and then close the transaction by March.
The Innovation Network Corp. of Japan and Development Bank of Japan, which joined up with Bain Capital, aren't in a hurry to reach a final agreement as they conduct due diligence because their participation won't require a lengthy antitrust review process, said one of the people, who asked not to be identified because the negotiations are private. Another person said the outline of the deal may change depending on what happens with Western Digital Corp., which jointly owns certain chip assets with Toshiba and has contested its authority to sell the semiconductor unit.
Kaori Hiraki, a spokeswoman for Toshiba, said there was no change in the Tokyo-based manufacturer's schedule. Satoshi Tsunakawa, Toshiba's president, said on Friday that the company was on track to reach final agreement on the chip unit sale.
Bain, INCJ and DBJ have indicated that they're willing to pay 2.1 trillion yen ($19 billion) for the semiconductor unit, people with knowledge of the matter have said. The divestment brings much-needed cash into Toshiba, which is seeking to make up for losses in its nuclear operations. The support of two state-backed entities was considered crucial to win government approval for a deal.
Toshiba shares fell 3.1 percent at the close in Tokyo, leaving them up 5.3 percent this year.
While Bain, INCJ and DBJ are seen contributing cash and equity, South Korean chipmaker SK Hynix Inc. will join the group by providing only loans to avoid antitrust hurdles, another person familiar with the matter has said. The other leading contender was U.S. chipmaker Broadcom Ltd., which made an offer of about 2.2 trillion yen, according to people with knowledge of the matter.
The closing of the deal may be complicated by objections from Western Digital, which jointly owns certain chip assets with Toshiba. The U.S. company has sought to prevent the business falling into the hands of rivals and opposed Broadcom in particular. Last week, Western Digital reiterated that Toshiba is violating its rights and that it will press forward in seeking an injunction against a sale of the chip unit.
Steve Milligan, Western Digital's chief executive officer, sent a letter to Toshiba on Sunday, saying that it's risking technology leakage by letting Hynix participate in the sale of the chip business. "I must make it clear that Western Digital will not consent to a transaction with the proposed consortium," Milligan wrote, adding that Western Digital will press forward in seeking an injunction against a sale of the chip unit.
— With assistance by Pavel Alpeyev
Quotes from this Article
Before it's here, it's on the Bloomberg Terminal.
LEARN MORE