The Bank CEO Winning Big From Collapse of Italian Lenders
By and
Milan bank gained more than 3 percent in Milan after agreement

CEO Messina insisted capital levels not be harmed by any deal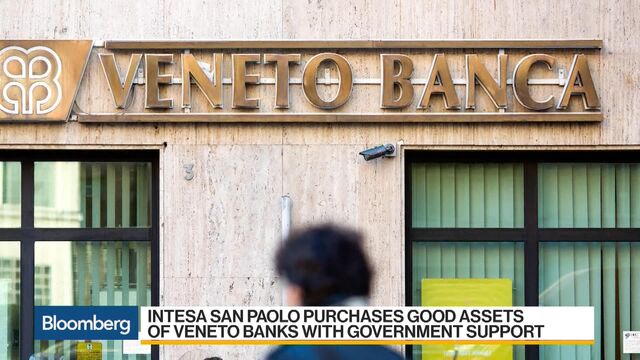 As Italian taxpayers contemplate the $19 billion bill to clean up two failed Veneto banks, Intesa Sanpaolo SpA shareholders cheered.
The nation's second-largest bank is taking over the good assets of Banca Popolare di Vicenza SpA and Veneto Banca SpA for 1 euro and will also receive 5.2 billion euros ($5.83 billion) from the state to maintain its capital ratios. In addition, the government will guarantee a much as 12 billion euros to cover bad loans and legal risks. The takeover will make Intesa the leading banking group in Italy's northeast, one of the country's wealthiest regions.

The deal is a coup for Intesa Chief Executive Officer Carlo Messina, a 22-year bank veteran who has shied away from risky bets in his near four years as CEO. Last week, as Italian officials scrambled to find a solution for the ailing lenders, he publicly offered to take on the two banks best assets provided it didn't harm capital levels or dividends. The Milan-based lender also defined a list of bad assets that it said it wouldn't accept as part of any deal.
"Carlo Messina has proven to have extraordinary strategic skills in acquiring only the good banks of Veneto Banca and Popolare di Vicenza," said Emanuele Canegrati, chief economist at BlackPearlFX, a London-based foreign-exchange broker. "He only acquired the creme de la creme of the two failed institutions, leaving the rest to the rescue plan entirely borne by the Treasury."
Bank Stocks
The agreement bolstered bank stocks across Europe while calling into question the effectiveness of European rules meant to ensure that private investors share the burden of bank bailouts. Just a few weeks ago, Spain's struggling Banco Popular Espanol SA was wound down without state aid. Italy, which wants to avoid imposing losses on bondholders because many of them are mom-and-pop investors, is still in talks with European authorities to save Banca Monte dei Paschi di Siena SpA through a so-called precautionary recapitalization.
Intesa rose 3.5 percent to 2.71 euros in Milan, taking this year's gains to more than 15 percent.
Italian Finance Minister Pier Carlo Padoan, speaking in an interview with Bloomberg Television, said the difference between the Spanish and Italian banking solutions wasn't related to the situation of the failing lenders but to the structures of the acquisitions by the buyers. While Santander had to raise as much as 7 billion euros to keep its capital ratios unchanged, Intesa maintained its capital buffers unchanged because of the state intervention.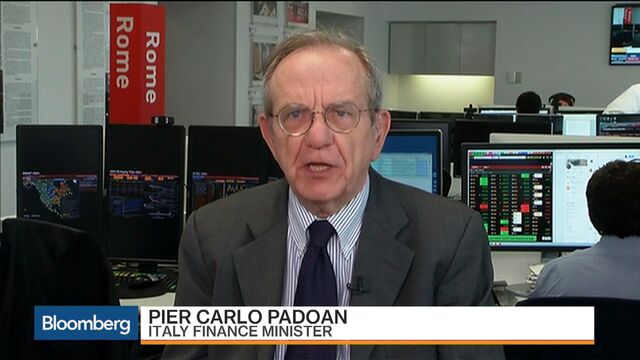 Messina hasn't always had it his way: an attempt to take over Assicurazioni Generali SpA, Italy's biggest insurer, was abandoned earlier this year after meeting investor and analysts' resistance. After scrapping the possible bid, the bank has focused on organic growth and repositioning the bank's business around wealth management. It also plans to expand in investment banking.
The executive, who is the only bank CEO among the country's top five lenders that's met its financial targets since his appointment, ensures that the transaction will not deviate the bank from its generous dividend policy and will not hurt the banks capital. With about 6.6 billion euros of cash dividends distributed to shareholders in the last three years, Messina's frequently defines the company as " the best in its class" when talking to investors and analysts.
Intesa's shares have returned 74 percent since he took over in 2013, compared with a 3 percent decline for the Bloomberg Europe Banks and Financial Services Index. Its market value of about 46 billion euros is about 30 percent higher that of UniCredit SpA, even though its Milan-based rival is larger by assets.
Intesa's proposal last week excluded taking on any soured debt, higher-risk performing loans and subordinated bonds, along with shareholdings and other legal liabilities. Under the plan, about 600 branches of the two lenders will be closed and 3,900 of their employees will lose their jobs.
Negative Position
"Given the structure of the deal and the government support in place, the transaction is expected to have sterilized the negative impact on Intesa's capital position deriving from the acquisition," Azzurra Guelfi, an analyst at Citigroup Inc, wrote in a note Monday.
Besides becoming the leading banking group in northeastern Italy, Intesa will become the No. 2 retail network in Sicily and will further strengthen its presence in the southern Apulia region, Messina said in a statement on Sunday.
Since becoming the top executive at Intesa Sanpaolo in 2013, Messina has turned the bank into the country's biggest by market value, focusing on costs and prioritizing dividends. Analysts at Mediobanca SpA estimate the acquisition will generate 250 million euros of profits by 2020.
"Intesa increases assets and liabilities by approximately 10 percent, with no exposure to litigation risks and a neutral impact on capital," according to Luigi Tramontana, an analyst at Banca Akros SpA. The brokerage increased its target price on the stock to 3 euros.
Intesa, a bank that relies almost entirely on Italy for its revenue, posted 901 million euros profit in the first quarter, up from 806 million euros a year earlier, driven by revenue from fees and commissions.
Italy's government tried for months to find a way to keep Popolare Vicenza and Veneto Banca afloat, including an appeal to wealthy businessmen in the region to contribute to a rescue. It rushed to approve emergency rules outlining liquidation procedures for the two Veneto banks after the European Central Bank on Friday declared the lenders failing or likely to fail, and said both would be wound up under Italian insolvency rules.
"The measures taken yesterday confirm that there are loopholes in the resolution processes which involve significant costs for taxpayers, without any consequence, at the moment, for those responsible for a such a huge collapse," said Luca Comi, an analyst at ICBPI, in a report published Monday.
— With assistance by Jerrold Colten, Francesca Cinelli, Jan-Henrik Foerster, Chiara Remondini, and Dan Liefgreen
Before it's here, it's on the Bloomberg Terminal.
LEARN MORE