business
Spanish Soccer Battles Premier League for Chinese Supremacy
By
La Liga opens Chinese office to compete with English rival

Foreign leagues seek a slice of China's sports industry boom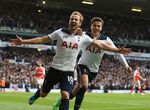 Thousands of kilometers from Barcelona's Nou Camp or Real Madrid's Bernabeu stadium, Spanish soccer is battling its English rival for supremacy in China, which has developed a big-spending appetite for the world's most-popular sport.
The Asian country of almost 1.4 billion people is in the midst of a soccer gold rush, and foreign leagues and federations are striving to tap into the boom in search of new fans and revenue. The Chinese government has set a goal to develop a 5 trillion yuan ($730 billion) sports economy by 2025, with soccer as its centerpiece.
The chief target of both the elite Spanish and English competitions is to be the second-most watched league in the country behind the local Chinese Super League, which has attracted global headlines after a spending spree that's padded the wallets of foreign stars, coaches and their agents. There's probably only enough room for one competitor to the CSL, according to Sergi Torrents, the Spanish La Liga's representative in the country.
"Our challenge here is to be number two -- we are all competing to get market share," Torrents said in an interview in Beijing. While there's going to be a second-most popular league, "the third one will have very limited interest, and the fourth one: forget about it," he said.
Chinese Roots
Torrents and La Liga have put down roots in China, setting up an office in Shanghai and sending about 50 coaches a year to the country as part of an agreement with the Ministry of Education. There are also Spanish soccer loyalty clubs, kids coaching clinics and plans to make China-specific television shows about La Liga.
"The key is to have as much local activation as possible," Torrents said.
The Spanish league gets about $50 million a year in Chinese revenue, about half the price Real Madrid paid to recruit Gareth Bale in a then-world record transfer in 2013. La Liga generates more than 2 billion euros ($2.2 billion) per year in sales, and Torrens believes China could eventually account for 12 percent of the total.
Cracking the Chinese market isn't as easy as just turning up. The Premier League had a false start when it sold its television rights to the highest bidder, as viewers in large parts of the country weren't able to watch games. Its current partner, Super Sports Media, has agreed to sub-license matches to a mix of paid-for and free networks, including CCTV 5, the only free, nationwide channel. The English league also has a dedicated Chinese social media team, although there are no plans for a permanent China office.
Germany, France
Spain isn't just battling the English for the no. 1 spot. Germany's Bundesliga has long had a presence in China, and reasoned early that giving away rights for free to CCTV would lead to a better television contract later on. In April, PPTV agreed to pay the German league $272 million for five years of rights.
Other national leagues, like France's Ligue 1, are just starting up. Matches from France have yet to catch on with little more than 10,000 people in China tuning in to watch games. That's led to the league setting up its own Chinese office in partnership with the French soccer federation. They're following the German model and giving away rights to try and build the audience.
"China is the only country in the world that has football as a national priority -- there is no other comparison," said Romuald Nguyen, French soccer's permanent representative to China. "There are opportunities for everyone."
Before it's here, it's on the Bloomberg Terminal.
LEARN MORE