Sky Gains as U.K. Deal Removes One Obstacle to Fox Takeover
By
Shares' 1% advance is most since week after December offer

Berenberg: Labour is 'obviously seen as being more opposed'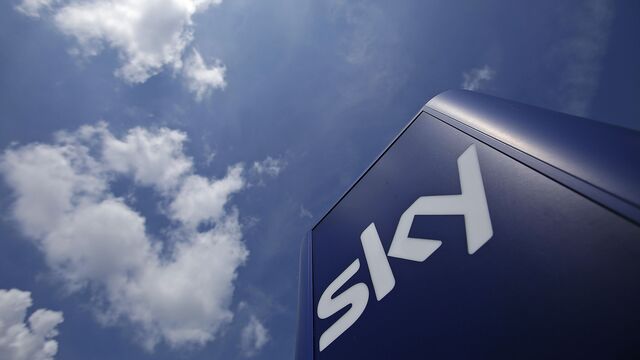 Investors in Sky Plc are growing more confident that Rupert Murdoch's 21st Century Fox Inc. will win regulatory approval to buy the pay-television operator after a scare tied to political turmoil in the U.K.
Sky's stock has risen in three of the past four trading sessions, and on Monday gained the most in more than six months as a deal to form a U.K. government left the Tories in power. The shares stumbled this month after the snap election called by Prime Minister Theresa May on June 8 left a hung Parliament and weakened the party's hold on the government.

U.K. Culture Secretary Karen Bradley is set to announce her initial ruling on the deal by Thursday. Sky advanced as much as 1 percent, its biggest gain since Dec. 13, a few days after the 11.7 billion-pound ($14.9 billion) agreement was announced. The shares were up 0.3 percent to 969 pence at 3:35 p.m. Monday in London.
Political uncertainty in the U.K. has already slowed the approval process for the 1,075 pence-a-share bid, which would unite Murdoch's U.S. film and television business with Sky, the U.K.-based company that offers pay-TV, broadband Internet and mobile-phone service, and operates in several European countries. U.K. regulator Ofcom's initial plan to submit its recommendations for the deal in May was delayed.
"The probability of a Labour government is now lower, and obviously they're seen as being more opposed," said Sarah Simon, an analyst at Berenberg, after May signed a deal with the Democratic Unionist Party to support her minority government in key votes in Parliament.
For more on May's deal with the Democratic Unionist Party click here
Fox, the New York-based operator of the 20th Century Fox film studio and TV networks Fox, Fox News and Nat Geo, already owns 39 percent of Sky. A combination would fulfill a long-held ambition by 86-year-old billionaire Murdoch to create a trans-Atlantic media and entertainment giant.
Before it's here, it's on the Bloomberg Terminal.
LEARN MORE