Puerto Rico Tells Trustee Not to Cover Payment on Highway Bonds
By
Commonwealth says bankruptcy puts agency payments on hold

Highway authority has $222 million bond payment due July 1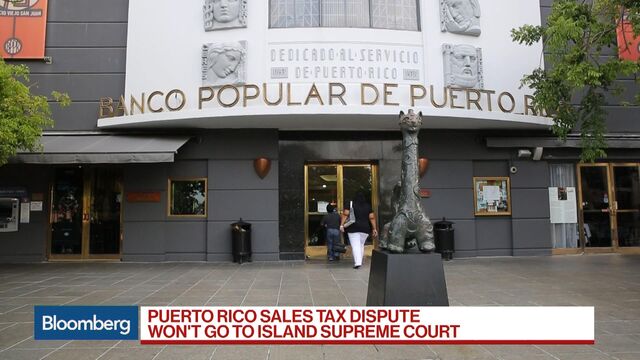 Puerto Rico instructed Bank of New York Mellon Corp. not to cover a payment coming due on its Highways and Transportation Authority bonds, saying the money belongs to the agency as it works through bankruptcy proceedings to reduce its debt.
BNY Mellon serves as trustee for bonds issued by the highway authority. The agency on May 21 filed for Title III, a type of bankruptcy created specifically for Puerto Rico under an emergency rescue law. Puerto Rico claims an automatic stay triggered by the proceedings bars the trustee from making the payment, according to a letter the territory's attorneys sent to the bank, which was disclosed in a securities filing Monday.
"Bank of New York Mellon may not lawfully make the scheduled July 1, 2017 payment to the bondholders from the HTA debt service reserve account, held by BNY as fiscal agent," Suzzanne Uhland, partner at O'Melveny & Myers LLP, which represents the island's Fiscal Agency and Financial Advisory Authority. "The funds in the account are not the property of the bondholders. Rather, they are the property of HTA."
Ligia Braun, a spokeswoman for BNY Mellon, declined to comment.
The letter is the latest action by the commonwealth to retain money pledged to investors as its bankruptcy moves forward. Puerto Rico earlier this month warned it may need to divert sales-tax revenue away from bondholders as soon as November to help cover government expenses.
While Puerto Rico and most of its agencies have stopped paying investors, the highway authority has continued to make such payments with reserve funds, even thought the government has been using the agency's money to pay routine expenses. Peaje Investments LLC, which holds $65 million in highway bonds, is suing Puerto Rico to stop the island from redirecting toll revenue away from bondholders. A hearing is set for Aug. 8.
The commonwealth warned BNY Mellon that it may hold the trustee liable for any damages, including attorney's fees, if it covers the next payment. The authority has about $4 billion of outstanding debt and owes investors $222 million of principal and interest on July 1, according to data compiled by Bloomberg.
— With assistance by Steven Church
Quotes from this Article
Before it's here, it's on the Bloomberg Terminal.
LEARN MORE