Pharmacist Tied to Fatal Meningitis Outbreak Gets Nine Years
By
Barry Cadden sentenced for role in 2012 outbreak in 20 states

Cadden is first of 14 executives, staff to be tried in case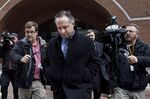 A Massachusetts pharmacy executive linked to 76 deaths and hundreds of meningitis infections was sentenced to nine years in prison for his role in a 2012 outbreak considered one of the worst public health crises in U.S. history.
Barry Cadden, 50, ran the New England Compounding Center in suburban Boston, a pharmacy that shipped fungus-contaminated medicines to pain clinics and hospitals in 20 states, infecting more than 700 people. He was convicted in March of more than 50 counts of mail fraud and racketeering for his role in the outbreak and acquitted of more serious second-degree murder charges.
"This reality haunts me now and will do so for the rest of my life," Cadden told U.S. District Judge Richard G. Stearns at his sentencing Monday in Boston federal court. "It breaks my heart to read about how painful their deaths have been."
Stearns acknowledged that the sentence fell short of what victims wanted but he said he could consider only the crimes of which Cadden was convicted.
"I know you don't agree with it," Stearns told victims in the courtroom. "But, as I said in trying to answer the question I was asked, my job is to do my duty as a judge."
Cadden, who co-owned the company, is the first compounding pharmacist ever sentenced to prison, his attorney said. In all, 14 executives and staff, including six pharmacists, were indicted on charges including racketeering and second-degree murder. Eight face trial later this year.
Tearful Apology
The pharmacist wiped away tears as he apologized to victims on Monday and acknowledged the immense pain and suffering his company's products caused. He also apologized to his own family, saying "our suffering pales in comparison to the true victims but my wife and children do not deserve this attention and pain."
Prosecutors argued Cadden deserved 35 years in prison and should be ordered to forfeit $132 million in profits the New England clinic made from drugs from 2006 to 2012. His attorneys countered that a three-year sentence would be appropriate and blamed the company's troubles on head pharmacist, Glenn Chin, who is awaiting trial this fall.
Cadden is scheduled to surrender to prison on Aug. 7.
The government portrayed Cadden as a greedy executive who cut corners and misrepresented his company as a compounding pharmacy when it operated more like a drug-manufacturing center that is subject to tougher regulation.
The company used improperly trained cleaners and non-sterile ingredients and shut down its entire air conditioning system each night allowing mold to proliferate in "clean rooms," prosecutors said.
FDA Oversight
The infections tied to the Framingham-based company, also called NECC, led Congress to increase U.S. Food and Drug Administration oversight of compounding pharmacies, which provide tailored drug mixtures that aren't commercially available to health-care companies.
During the trial, jurors were shown evidence that Cadden made up fanciful names for patient lists such as "Filet-o-Fish" and "L.L. Bean." One former sales director testified Cadden referred to the company's fax machines, through which orders arrived, as his personal ATM. He once said he wanted to keep up the sales pace so he could buy a Ferrari, the witness testified.
Cadden's lawyers denied that the father of three lived a lavish lifestyle. He never owned a Ferrari, they said.
"The jury appears to have rejected the government's characterization of Mr. Cadden as callous and greedy. The court should do the same," his attorney Bruce Singal said in court papers.
Victim Impact
When Cadden first learned from an Indiana clinic of possible product contamination, he made calls throughout the night warning other facilities not to use the drugs, his lawyers said. A cooperating witness testified the pharmacist broke down in tears when he learned of the first death connected to the drugs.
Twenty-eight victims attended Cadden's sentencing hearing, describing devastating losses of loved ones and telling the judge about living with meningitis infections.
Rachelle Shuff, a former bank manager from Elkhart, Indiana, said steroid shots she received following a car accident have left her in agonizing pain and sometimes praying for death. She said she lost her career, falls down often, endures severe headaches and can't attend her children's school events.
She asked the judge to sentence Cadden to spend the rest of his life in prison as a deterrent to other executives who might be tempted to put profits before patient welfare.
"I will die imprisoned in my body, slowly and in anguish and he should die in prison," Shuff told the court.
NECC filed for bankruptcy in 2012. In 2015, the pharmacy agreed to a $100 million settlement with victims and their families.
"This case was a national tragedy," acting U.S. Attorney William Weinreb said after the sentencing. Cadden "will have to pay for his crimes."
The case is U.S. v. Cadden, 14-cr-10363, U.S. District Court, District of Massachusetts (Boston).
Before it's here, it's on the Bloomberg Terminal.
LEARN MORE