Moon's Stalled Spending Plan Shows Risk to Korea's Economic Agenda
By and
Opposition lawmakers fight package Moon promised voters

President wants more public-sector jobs, to raise wages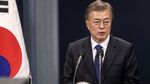 Despite his soaring approval ratings, South Korean President Moon Jae-in's fiscal stimulus package has so far gone nowhere in parliament, underscoring the challenges he faces in enacting his economic agenda without a majority.
His 11.2 trillion won ($9.9 billion) supplementary budget to create tens of thousands of public-sector jobs was submitted by the government almost three weeks ago but has yet to move past even the initial stage of the legislative process. With the main opposition Liberty Korea Party adamant that the spending is unjustified and two smaller parties opposing the focus on the public payroll rather than private industry, the bill is set to languish unless Moon makes some concessions.
How much he has to compromise may prove to be a litmus test for his ambition to be a "jobs president" and to bring changes to a labor market that he sees as the root of growing inequality in Korea. Failure to push the supplementary package through would make it more difficult for the government to achieve its other objectives, particularly a promised 7 percent increase in the 2018 budget, said Oh Suktae, an economist for SG Securities in Seoul.
"It's not easy for a minority government," Oh said. "There's another three years to go before the next parliamentary election."
Improving Economy
The finance ministry has projected that the supplementary budget would add 0.2 percentage points to growth if implemented without delay. The minister, Kim Dong-yeon, visited the parliament on Monday to meet with three opposition parties and plead for help in passing the bill.
Those against Moon in the parliament can point to an economy that is recovering, thanks in part to improving exports.
Bank of Korea Governor Lee Ju-yeol said growth for 2017 is likely to exceed the 2.6 percent the central bank forecast in April.
Speaking during a cabinet meeting on Tuesday, Moon said the extra budget would help Korea return to 3 percent expansion of gross domestic product, and was necessary to help solve the problem of slow growth.
"Now is a golden time for an economic recovery," he said.
The Moon administration is concerned about weak conditions in the job market, especially the high youth jobless rate and widespread temporary employment, which weighs on wages and spending. The central bank has also emphasized the importance of stable job growth.

The finance ministry plans to use 4.2 trillion won of the spending package to create 86,000 new jobs, 71,000 of them in the public sector, including positions for police officers, firefighters, assistant teachers and social workers. Other spending would go toward increasing pay, and providing welfare benefits and local subsidies.
Majority Rules
Moon, who captured 41 percent of votes in last month's election, received a 79 percent approval rating in the latest Gallup poll last week. In parliament, his Democratic Party of Korea holds 120 of the total 299 seats.
Opposition parties are also linking their objections to the spending package with their anger over some ministerial appointments. Moon pushed ahead with Foreign Minister Kang Kyung-wha and Fair Trade Commission's Chairman Kim Sang-jo's appointments without parliament's endorsement. Parliament's formal approval wasn't required.
Moon will need to broaden his support in parliament to pass his agenda. Other items include a bill to reorganize government organizations, which would pave the way for setting up a new ministry for smaller companies and venture companies. That was also one of Moon's primary electoral pledges.
The government could struggle to create new jobs and raise wages if the supplementary spending bill fails to pass, said Kim Cheon-koo, a research fellow at Hyundai Research Institute in Seoul.
It could also affect the Moon administration's ability to gain opposition support for future initiatives, Kim said.
For the spending bill to be approved, it must be reviewed in the standing committees and then a special budget committee before it goes to a vote of the full parliament. So far the standing committees haven't agreed on a date to consider it.
Before it's here, it's on the Bloomberg Terminal.
LEARN MORE