Lula Leads Brazil Presidential Poll Ahead of Court Sentence
By
Lula's ability to run depends on upcoming court decision

Bolsonaro and Marina Silva tied in second place: Datafolha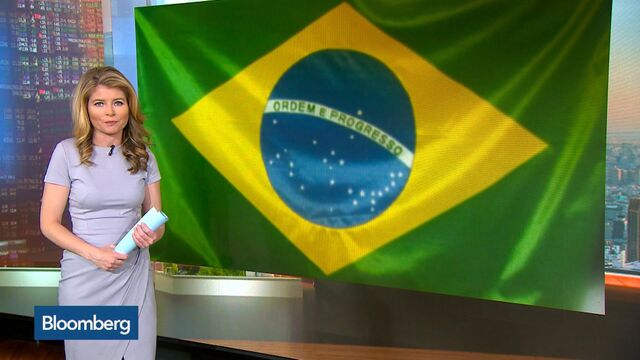 Former President Luiz Inacio Lula da Silva has kept a clear lead in Brazil's 2018 presidential race before a looming court ruling that could send him to jail.
Lula received about 30 percent of first-round voter intention regardless of the scenario of contenders, according to a Datafolha poll published by Folha de S.Paulo newspaper on Monday. In simulations for a run-off, only Carwash judge Sergio Moro would defeat the former president.
Moro is slated to rule in a corruption case in which Lula is accused of having received undue benefits from a construction company in exchange for favors he granted when president. On Monday he sentenced Lula's former Finance Minister Antonio Palocci to 12 years in prison for passive corruption and money laundering.
Lula denies wrongdoing and his lawyers say the allegations are part of a campaign to discredit him. Investors are closely watching the case as a possible conviction and higher court confirmation could ban Lula from running.
Brazil's Popular Leader Lula on Trial: a Guide to What's Next
"It should become clear in the next four months whether Lula will be able to run, and that may bring volatility to markets," Luis Stuhlberger, manager for Brazil's Verde fund, said at an event in Sao Paulo on Saturday.
Political uncertainty surrounding next year's presidential election comes on top of a three year corruption scandal that helped oust President Dilma Rousseff in 2016 and has engulfed her successor President Michel Temer. It may also slow Brazil's recovery from its deepest recession on record as investors gauge the chances of a maverick winning next year.
The far-right congressman Jair Bolsonaro continued to gain ground and is now tied for second place with Marina Silva, the environmentalist who ended third in the 2014 presidential race. Both have around 15 percent of votes. 
Sao Paulo Mayor and former TV presenter Joao Doria and former Supreme Court Justice Joaquim Barbosa tally around 10 percent of voter intention.
Before it's here, it's on the Bloomberg Terminal.
LEARN MORE