Kenyan President Pledges Investment Plan in Hunt for Votes
By
Ruling party asks voters for second term to complete projects

Kenyatta vows to offer free education, boost job creation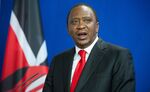 Kenya's ruling Jubilee Party pledged to transform East Africa's largest economy into a middle-income nation by 2022 by boosting investment in public infrastructure and technology and offering increased financing for small businesses.
President Uhuru Kenyatta's party also said it will increase the number of poor and elderly receiving free health-care and offer free education to some primary and secondary public-school students. The number of elderly receiving state grants would be doubled to 1.4 million, and the government would create 1.3 million jobs every year, the party said in a manifesto for Aug. 8 elections posted Monday on its Twitter account. The economy generated 832,900 jobs last year, 85,600 of them in the formal sector, the Kenya National Bureau of Statistics said April 19.
Kenyatta's administration pledged to "maintain a stable macro-economic environment and sensible policies that will support strong economic growth, ensure price stability, maintain debt at sustainable levels, create wealth and reduce inequalities," according to the document.
Kenyatta, 55, is seeking a second term in a race against 72-year-old former Prime Minister Raila Odinga, whose five-party opposition coalition is scheduled to release its manifesto on Tuesday. Kenyan elections are fractious times for investors because of violence that engulfed the nation in three of the past five votes. In a disputed December 2007 ballot, ethnic violence left 1,100 people dead and forced 350,000 more to flee their homes.
The Jubilee Party plans to raise revenue collection to 27 percent of gross domestic product from about 19 percent currently. It will also establish a sovereign wealth fund to hold proceeds from anticipated oil production, it said. Kenya's economic growth may slow to 5.5 percent in 2017 from 5.7 percent in 2016 as the worst drought in more than three decades decimates output from its rain-fed farming industry, Treasury Secretary Henry Rotich said on June 8.
Railway Line
The ruling party is highlighting a $3.8 billion railway from the coastal city of Mombasa to Nairobi, the capital, as the hallmark of its achievements. The standard-gauge railway line is Kenya's biggest public investment since attaining independence in 1963 and was financed by loans from China Export-Import Bank.
The line is being extended by 120 kilometers (75 miles) to Naivasha, a floriculture hub northwest of Nairobi. The government also pledged to complete 7,000 kilometers of roads and build a six-lane highway between Mombasa and Nairobi.
If re-elected, Kenyatta's government will establish a Kenyan Exim Bank and an Industrial and Commercial Development Bank to provide long-term financing for small businesses, according to the manifesto. It will also create a public housing program to build at least 500,000 affordable units for low-income earners, it said. The government would also double fertilizer subsidies to farmers and complete construction of 57 large-scale dams.
Before it's here, it's on the Bloomberg Terminal.
LEARN MORE