Paulson Boosts His Stake in Valeant Pharmaceuticals to 6.3%
By and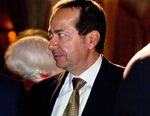 Billionaire John Paulson, the largest shareholder in Valeant Pharmaceuticals International Inc., increased his stake in the drugmaker to 6.3 percent, from 5.7 percent at the end of March.
Paulson holds about 21.8 million shares, according to a regulatory filing Monday. The hedge fund manager disclosed that his funds purchased 2.72 million shares on May 11 at an average price of $13.71 each. The document also shows that the funds hold cash-settled swaps on an additional 862,500 Valeant shares, raising the total economic stake to 6.5 percent. The Paulson funds can't vote or trade the shares underlying the swaps.
Valeant has gained 24 percent since Paulson & Co. bought the additional shares. The hedge fund manager joined Valeant's board earlier this month to help the company with its turnaround.
Before it's here, it's on the Bloomberg Terminal.
LEARN MORE