Hopes High, Returns Low in Philippine Stocks Under Duterte
By and
Philippine equities gained 0.2% since Duterte assumed office

Optimism spurred by infrastructure build-up, consumer spending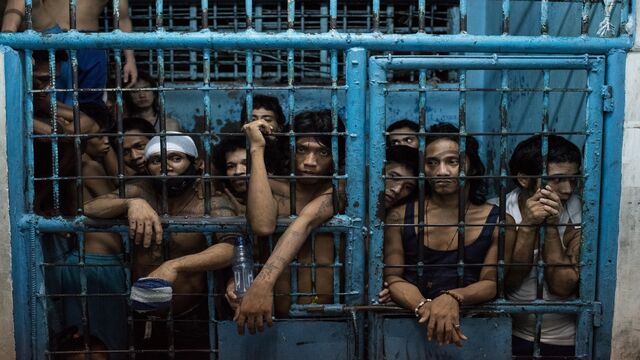 It's going to take a lot more than some dirty words and militant attacks for investors to abandon hope in Rodrigo Duterte.
In his first year in office, the Philippine president ordered a drug war that killed thousands, cursed out former U.S. president Barack Obama, backed the arrest of a top critic and had a major city overtaken by Islamic State.
The peso has depreciated more than 6 percent against the U.S dollar since Duterte took office, the worst performing emerging market Asia currency. Philippine stocks have seen near-zero growth, making the nation's benchmark index the worst performer among major markets in Asia. 

Yet investors see reason for optimism: Economic growth in 2017 is forecast at 6.5 percent, one of the fastest rates among emerging markets. Public support for Duterte remains strong, consumer confidence is at a record high and plans to spend 8.4 trillion pesos ($167.3 billion) through 2022 on infrastructure are just getting off the ground.
"The best is yet to come," said Julian Tarrobago, head of equities at ATR Asset Management and manager of the best-performing stock fund in the Philippines. "Duterte has a sound economic program and its potential benefits are just shaping up. As long as nobody drops the ball, the Philippines has a very good story."
Until now, Duterte's tenure has been a rough ride for equity investors. Philippine stocks have gained just 0.2 percent since he took office last June 30, trailing the rally equities posted in the first year of each of the nation's previous four presidents. Rising U.S. interest rates and prospects of weaker global trade under President Donald Trump have also roiled the market.

Duterte, 72, was elected following an anti-establishment campaign that tapped into middle-class frustrations over crime, the state of public services and corruption. Upon taking office, he started a war against illegal drugs that quickly spawned accusations of extra-judicial killings, drawing criticism from the U.S., United Nations and European Union.
Relations with the U.S. hit a low point in October, when Duterte told Obama he could "go to hell" for criticizing his drug war. A few weeks later, he announced a "separation from the U.S." and a pivot toward China on a trip to Beijing. Ties with the U.S. have improved under Trump, who will visit the Philippines in November.
Duterte's unpredictability contributed to volatility on the stock exchange: Index fluctuations in his first year were the widest among the nation's presidents since 1992. The Philippine benchmark gauge swung 1,538.63 points between its peak and bottom in the past 12 months.

Amid the ups and downs, some companies have stood out. Duterte's promise to build airports, roads and ports at an accelerated pace have piqued interest in sectors that are likely to benefit from his infrastructure push.
Banks, property developers and infrastructure-related companies comprised all but one of the 10 biggest gainers in the benchmark Philippine stock index in the past year. 
The biggest winner by far among the nation's billionaires has been Henry Sy Sr, the richest Philippine tycoon. Since Duterte assumed office, the top three gainers by market capitalization are companies owned by Sy. His holding company SM Investments Corp. and its ventures -- SM Prime Holdings Inc. and BDO Unibank Inc. -- amassed 455.32 billion pesos in additional value.
"SM Investments is the best proxy for the Philippines, which remains a largely consumer-driven economy," said Richard Laneda, an analyst at COL Financial Group Inc.

Risks remain heading into Duterte's second year as president. Last month, he placed the southern island of Mindanao under martial law after militants linked to Islamic State spearheaded the capture of Marawi City.
Read more: Is Islamic State Threat Shifting to Philippines?: QuickTake Q&A
Increased tensions with China over territory or any sudden foreign-exchange regulations could also erode Philippine attractiveness, said Shin Hong-sup, head of fixed income at Truston Asset Management in Seoul. For the most part, however, investors are paying more attention to the positives in a nation with one of Asia's youngest populations.
"Investors regard the Philippines like Vietnam or India, which are in good shape demographically and in terms of labor force growth," Shin said. "Although Duterte's issues remain, investors try to look through those and focus more on the structural growth."
Before it's here, it's on the Bloomberg Terminal.
LEARN MORE