Investor Suit Deadlines Tightened by Supreme Court in Lehman Case
By
Case stems from Calpers' complaint against debt underwriters

Retirement system had opted out of similar class-action suit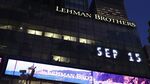 The U.S. Supreme Court tightened the deadlines for some securities-fraud suits, throwing out an investor lawsuit in a case stemming from Lehman Brothers Holdings Inc.'s 2008 collapse.
The justices, voting 5-4 along ideological lines, ruled that the California Public Employees' Retirement System took too long to file its suit against the underwriters of Lehman's debt. Calpers said the three-year deadline should have been extended because similar class-action lawsuits had been filed earlier.
The ruling limits the flexibility investors will have in legal fights over securities offerings. Lower courts had been divided on the issue.
The class-action lawsuits against the underwriters were filed starting in June 2008, centering on debt that was issued from July 2007 to January 2008.
Calpers was eligible to be a part of the class litigation but chose to opt out and file its own lawsuit in February 2011, more than three years after the last of the debt offerings. The class lawsuits were later settled.
The case is California Public Employees' Retirement System v. ANZ Securities, 16-373.
Before it's here, it's on the Bloomberg Terminal.
LEARN MORE