Carmakers Say They May End Up With Most Takata Costs
By
Takata filed for bankruptcy protection in both U.S. and Japan

Seventeen vehicle makers have unsecured claims, filing shows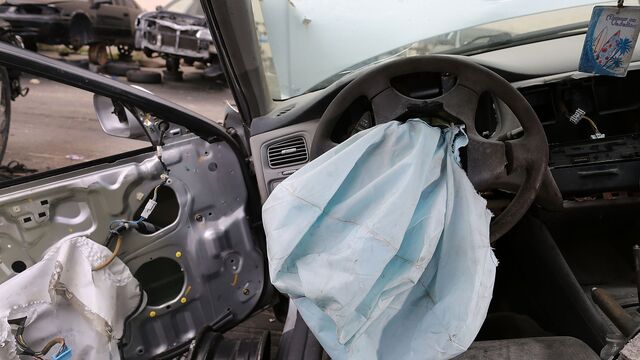 Carmakers may end up shouldering the bulk of the costs of replacing the estimated 100 million defective air bags made by Takata Corp. after the company filed for the biggest postwar bankruptcy by a Japanese manufacturer.
Toyota Motor Corp., Honda Motor Co. and Nissan Motor Co. on Monday issued separate statements saying they may not be reimbursed for the majority of their recall-related claims by Takata, which earlier filed for bankruptcy protection in the U.S. and Japan.
Seventeen vehicle makers including BMW AG and Tesla Inc. were named as unsecured creditors with unknown claims related to recalls and indemnification, according to Takata's Chapter 11 bankruptcy filing, which listed more than $10 billion in liabilities. Takata is unable to disclose the exact total of its liabilities as the company hasn't reached an agreement on how to split the recall costs with the automakers, Nobuaki Kobayashi, a member of the steering committee, said at a news conference on Monday.
Tokyo-based Takata also announced an agreement on a sale to Key Safety Systems Inc. for 175 billion yen ($1.6 billion). The U.S. air-bag maker owned by China's Ningbo Joyson Electronic Corp. will substantially retain all of Takata's employees worldwide and the acquisition of the businesses and bankruptcy proceedings are expected to be completed by the first quarter of 2018.
'Absorb the Difference'
"It's a lot, but from an accounting point of view, Japanese automakers already recognized those air-bag related expenses in prior years," said Tatsuo Yoshida, an automotive analyst at Tokyo-based Sawakami Asset Management Inc. Following the bankruptcy filings, automakers "unwillingly will have to absorb the difference" between the money Takata receives and the outstanding recall costs, he said.
The recalls will eventually cover more than 120 million inflators worldwide, Scott Caudill, chief operating officer for U.S. unit TK Holdings Inc., said in a court document.
See here for more on how Takata's bankruptcy affects the air bag recalls.
Toyota may not recover as much as 570 billion yen of known recall-related costs from Takata, it said in a statement. Nissan said it was unlikely to be reimbursed by Takata for recall costs in most cases, without giving a monetary figure. The Yokohama, Japan-based company booked a one-time, pretax expense of 90 billion yen during the 2015 financial year for potential recall costs.
Honda said it'll become difficult to recoup the majority of its claims against Takata with the bankruptcy filing. The automaker set aside 556 billion yen for Takata-related recall costs in the two years to March 2016.
Other Regions
European carmakers said they don't expect their production to be disrupted and noted that they've already set aside funds to deal with the issue. BMW said the recalls have cost it a "low three-digit-million euro" sum so far and declined to comment on possible additional expenses. Daimler AG said its costs tied to the recall were 563 million euros last year, while the premium Audi brand, which represents parent Volkswagen AG's largest exposure to Takata, set aside 232 million euros over the past two years.
In the U.S., Fiat Chrysler Automobiles NV said it doesn't foresee any issues with parts supply and "has been working collaboratively with key stakeholders to ensure a stable supply of replacement parts to our customers who are affected by the recall." General Motors Co. also said it is not expecting any supply disruptions and that any material financial impact from the recalls would be reflected in its financial reports.
Hyundai Motor Co. spokesman Jim Trainor in Fountain Valley, California, said the Korean automaker uses no Takata air bags in its vehicles.
Ford Motor Co. is "not disclosing the cost of these actions as they are included in our financial outlook," Monique Brentley, a Ford spokeswoman, said in an email. "We are following NHTSA's coordinated remedy to phase in vehicles by model, model years, and regions, over the next few years." NHTSA was not immediately available to comment, while Tesla declined to comment.
Among other Japanese automakers, Subaru Corp. announced it has about 73.5 billion yen in recall-related claims against the airbag maker for the period ended March 2017. The company is assessing the need for additional provisions for the current financial year and beyond, and the potential impact of the bankruptcy filing on its claims.
— With assistance by Elisabeth Behrmann, Christoph Rauwald, Ania Nussbaum, Jamie Butters, John Lippert, Ryan Beene, Keith Naughton, and David Welch
Before it's here, it's on the Bloomberg Terminal.
LEARN MORE