Technology
China Is Missing Out on the Chips Rush
U.S. lawmakers are blocking Chinese purchases of semiconductor companies as the industry sets a deals record.
By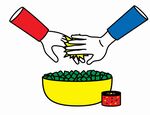 Darin Billerbeck can't sell out, but it's not for lack of trying. On June 12 the chief executive officer applied for U.S. Department of the Treasury approval to sell his Lattice Semiconductor Corp. to Canyon Bridge Capital Partners Inc. for the agreed-upon sum of $1.3 billion. For the third time. "I know the ­continuing uncertainty is challenging for us all," Billerbeck wrote in an email to his 1,000 employees the day he re-­refiled with the Treasury Department.
Canyon Bridge is being funded primarily by China Reform Holdings Corp., an investment firm controlled by the Chinese government. Lattice, based a few blocks from the waterfront in Portland, Ore., is a quiet business, even by the standards of the esoteric chip industry. But there are enough members of Congress worried about the maker of programmable circuits falling into Chinese hands to block the deal, which has been pending approval for more than eight months.
"Canyon Bridge appears to be directly affiliated with the Chinese government, and this transaction appears to be a legal construction designed to obfuscate the involvement of several Chinese state-owned enterprises," according to Representative Robert Pittenger (R-N.C.), who leads a group of 21 representatives opposing the sale. Lattice, Canyon Bridge, and the Treasury Department's Committee on Foreign Investment in the United States, which has ­jurisdiction over the deal, declined to comment.
Pittenger and his allies aren't claiming the Chinese government has any particularly nefarious plan for Lattice; they just don't want U.S. technological capabilities headed there. Similar roadblocks have stymied other Chinese acquisitions of peripheral chipmakers over the past two years, limiting deals to about $14 billion, even as the industry broke merger records ($198 billion) and the Chinese government dedicated $150 billion to establishing a domestic chip infrastructure, largely through such deals.
Chip companies have been combining at a record pace as they face increasing costs and a shrinking list of customers. The 10 largest semiconductor makers control about 56 percent of the global market, and that share is rising; none of them is based in China. "If you have Chinese government money in any form, that automatically raises the level of scrutiny," says Mike O'Bryan, a partner at law firm Morrison & Foerster LLP who advises companies on international acquisitions. "The larger the deal, the more prominent the deal, the harder it may be."
China buys about 59 percent of the chips sold around the world, but in-country manufacturers account for only 16.2 percent of the industry's ­global sales revenue, according to PwC LLP. China spends about as much on semiconductor imports as it does on imported oil, according to investment firm Sanford C. Bernstein & Co.
The country hasn't completely failed to domesticate its chip business. Many of the industry's biggest companies have made investments in China and shared proprietary technology with local counterparts. ARM Holdings plc, Qualcomm Inc., and Intel Corp. are all co-designing and co-producing chips with Chinese companies. Intel is expanding its plant in the port city of Dalian; South Korea's SK Hynix Inc. has a plant in Wuxi; Taiwan Semiconductor Manufacturing Co. is building a plant near Nanjing.
U.S. officials may be able to block most of China's acquisition plans for now, but companies such as Billerbeck's will likely remain just as eager to sell as the state-backed funds are to buy, says Tristan Gerra, an analyst at investment bank Robert W. Baird & Co. As with most semiconductor makers, he says, "the economies of scale are really against Lattice."
BOTTOM LINE -
Semiconductor companies are eager to take advantage of a run on chipmakers, but U.S. officials are blocking some sales to Chinese buyers.
Before it's here, it's on the Bloomberg Terminal.
LEARN MORE