business
Bank of Canada Gives Private Talk Two Weeks Before Decision
By
Schembri addresses business economists at Toronto club

Chances of rate hike at July 12 meeting were 33% on Monday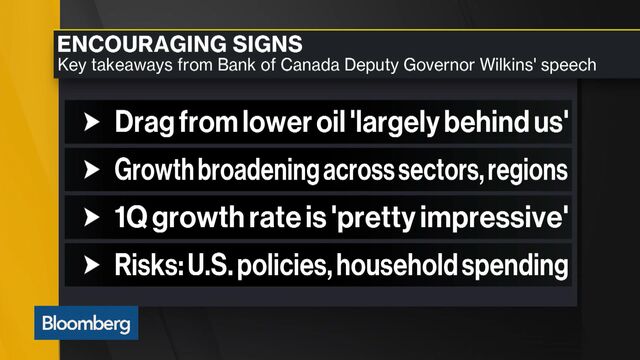 The place for Bank of Canada watchers to be on Monday was the Albany Club in Toronto, where a business association hosted a private lunch event with Deputy Governor Larry Schembri.
The event, which was off the record and closed to the media, comes at a particularly sensitive time for interest rates. Two weeks ago, the central bank began to set the stage for increases, leading some investors to place bets on a move at the July 12 meeting. Schembri's presentation to the Toronto Association for Business and Economics is one of the last appearances by a top central bank official before that date. 

The Bank of Canada has itself said private events like Schembri's can lead to problems. An internal review showed the bank is revising its guidelines for private speaking engagements because such events may give the impression that some select groups receive privileged access to information, eroding public trust. It also highlighted the risk some information could be shared inappropriately on social media.
At a time when investors are rethinking rate forecasts, "every communication by the central bank becomes exponentially more important," Derek Holt, head of capital markets economics at Bank of Nova Scotia in Toronto, said by phone before the speech.
Two people who attended and wished to remain anonymous because of the privacy rules said after the event Schembri didn't introduce any new economic outlook. One of the people said the speech touched on issues made public in the bank's April economic forecast paper. The other person said the presentation was a look at some "puzzles" in the economic outlook that had already been raised in public. Neither person identified specific topics of discussion. Schembri declined to comment as he left.
Internal Review
The chances of a rate increase at the July 12 meeting rose to above 50 percent last week, from about 5 percent on June 9, the last trading day before Senior Deputy Governor Carolyn Wilkins, then Governor Stephen Poloz, signaled the prospect of higher rates as an economic recovery gathers speed. Chances slipped to 37 percent on Friday after Statistics Canada data showed the pace of inflation fell even further below the central bank's 2 percent target, and dropped to 33 percent on Monday.  
The central bank's internal review, conducted in December, found the number of private speaking engagements by members of its governing council outnumbered public ones by almost two to one over a three-year span. The bank, which says private engagements are valuable partly because they allow for candid two-way discussions, maintains a policy of not disclosing anything to a private audience that hasn't already been released to the public.
"The Bank's clear commitment is that remarks made in private settings only reflect views we have already communicated publicly. Indeed, at this event, we are very much there to learn from others, not to deliver a new message," Josianne Menard, a Bank of Canada spokeswoman, said Friday in an email.
Policy Signals
"The bank asked that the session be off the record," Paul Jacobson, a TABE board member, said Friday by email in response to a question from Bloomberg. "We like to use the Chatham House rule to facilitate discussion. I would imagine that Dr. Schembri's remarks will be based on publicly available bank research which I always enjoy reading."
Canada's dollar and bond yields jumped after the Poloz and Wilkins comments, and economists advanced predictions for when the central bank will raise its current 0.5 percent benchmark interest rate, something it hasn't done since 2010.
A Bloomberg survey of 17 economists this month found the majority now project a rate increase this year. Six predict higher rates in October and two suggest a September hike.
Poloz will take part in a panel discussion on Wednesday in Portugal, and Deputy Governor Lynn Patterson delivers a speech in Calgary on the same day. Those are the last scheduled public remarks from the central bank before the July 12 meeting.
"This is an age in which central banks have to be very careful about the way in which they communicate with markets, and in ways that increase their transparency,'' Holt said.
(
Updates with comments from attendees in fifth paragraph.
)
Before it's here, it's on the Bloomberg Terminal.
LEARN MORE