politics
Balance of Power: Why Obamacare Might Survive
By and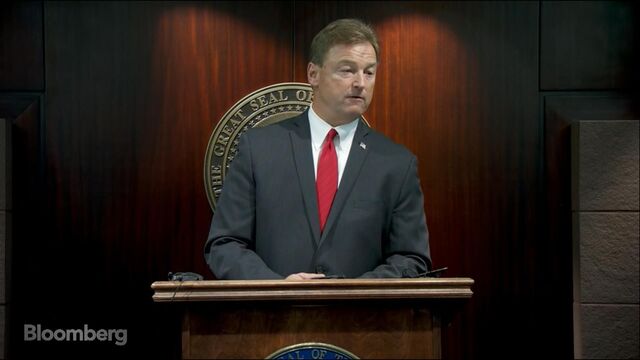 Obamacare may yet survive the latest assault from Senate Republicans. And the weakness of Donald Trump, and his party's fears for the 2018 mid-term elections are to blame.
At least five Republicans say they're opposed to Senate Majority leader Mitch McConnell's bill to replace the Affordable Care Act, which may go to a final vote by early Friday. He can only afford to lose two.
It's hard to imagine a phone call from the embattled president would persuade any of the rebels to switch sides. 
One of the loudest "no" votes is Dean Heller of Nevada, the most endangered Senate Republican next year. While the party's base may hate Obamacare, many of Heller's Nevada constituents like it just fine. Turn off enough of those voters nationwide and the Republicans risk losing the Senate, the House, or even both.
We're a long way from that.
But if McConnell fails to pass an Obamacare repeal this week after seven years of promises, it's a flashing red indicator of the woes facing the party and it will make everything from tax reform to Trump's border wall that much more difficult to pull off.
Sign up to receive the Balance of Power newsletter in your inbox, and follow Bloomberg Politics on Twitter and Facebook for more.

Global Headlines
May's big deal | Fighting on all fronts, Prime Minister Theresa May's most immediate push is for a deal with the Democratic Unionists that allows her party to hold on to power. She resumes talks with the DUP leader Arlene Foster in London today, with expectations high for an agreement. It can't come too soon: May needs DUP votes to pass the government's program in Parliament on Thursday.
"America First" meets "Made in India" | A clash of economic nationalism is on the cards when Trump meets Indian Prime Minister Narendra Modi today at the White House. While the two leaders see eye-to-eye on combating terrorism and defense cooperation, they have differences on visas for Indian technology workers, investment barriers for U.S. companies and a $25-billion trade imbalance in favor of New Delhi. 
A world awash with missiles | U.S. adversaries have made ``dramatic improvements'' in missile technology and the Pentagon is getting worried. Engineers from North Korea and Iran to Russia and China are developing faster, more accurate ballistic and cruise missiles that pose a challenge to defense systems, even if they don't carry nuclear warheads, defense intelligence agencies said in a report seen by Bloomberg News in advance of its release.
Saudi Arabia's morality police are back | After a year-long absence, the foot-soldiers of religious conservatism have re-emerged under pressure from hardliners. From Riyadh, Vivian Nereim examines the challenges that newly elevated Crown Prince Mohammed bin Salman faces in reconciling plans to modernize the economy with the reactionary factions in the Saudi establishment.
A comeback for Argentine populism? | Former President Cristina Fernandez de Kirchner is eyeing congressional elections to revive her career and that spells trouble for her successor Mauricio Macri. At best, it undermines his efforts to erase the populist legacy of Fernandez and her husband, Nestor. At worst, he could end up facing pressure from lawmakers to reinstate currency controls and subsidies.
Too nice to Trump | As Germany's election campaign heats up, Angela Merkel has been accused of being soft on Trump. Her challenger Martin Schulz said she should take a harder line with the "erratic"' U.S. leader, even evoking his SPD party's opposition to the U.S.-led Iraq war, which helped Gerhard Schroeder win 15 years ago. The rhetoric increases the pressure on Merkel to be tough when Trump comes to Hamburg for a G-20 summit in July.
Europeans in the U.K. await their fate | May will flesh out her post-Brexit plans for Europeans living in the U.K. today, after her initial proposal was given a tepid reception by EU leaders last week. While the prime minister is offering to maintain most rights for EU citizens already in the country, she wants British courts to rule on any disputes, and that could prove a sticking point.
And finally… May confessed to running through fields of wheat when asked to cite a youthful transgression during the U.K. election campaign. Her political rival Jeremy Corbyn found fields filled with supporters when he turned up at the Glastonbury music festival this weekend. From the main stage where Radiohead and Ed Sheeran also played, Corbyn spoke about the value of collective action, redistributing wealth and education in the arts. He also tossed in a few jabs at Trump, who was roundly booed by the 100,000-strong crowd.

Before it's here, it's on the Bloomberg Terminal.
LEARN MORE