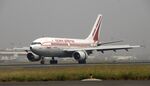 The Tata Group should quell speculation it wants a debt-laden national carrier to land in its lap.
The $103 billion conglomerate has shown preliminary interest in Air India Ltd., according to multiple reports in local media. Other Indian businessmen, such as Sunil Mittal of Bharti Airtel Ltd., have suggested that Bombay House, Tata's headquarters, would be the ideal rehab for the ailing, state-run carrier. The Indian government will soon make a call on privatizing the airline.
A firm "no" from the Tata Group would be helpful. The salt-to-software empire is still trying to live down one dangerously overpriced acquisition made a decade ago: the $12.9 billion purchase of Corus Group Plc's steel assets.
Air India was forcibly taken away from the group and nationalized more than 60 years ago, but that should make no difference now. This isn't the time to think emotionally about opportunities. Nor is there any point in revisiting the botched privatization attempt 16 years ago when the group -- together with Singapore Airlines Ltd. -- came close to acquiring control.
In theory, it's possible Chairman Emeritus Ratan Tata, an aviation aficionado, could salvage Air India and merge it with his joint venture with Singapore Airlines, giving the latter a firm foothold in what was the world's fastest-growing major aviation market last year. Airbus SE projects India's air traffic will expand more than fivefold between 2015 and 2035.

Considering that the Tata Group has bungled telecom, is struggling in power generation, and (being a diversified conglomerate) will never be allowed to become big in banking, aviation is one of the few regulated industries in which the group can still seek dominance. An acquisition by the trusted Tatas would also reassure New Delhi of Air India's continued willingness to airlift stranded Indian workers from the Persian Gulf in times of trouble.
All that's fine, but what to do about Air India's $8 billion debt? The Tata Group's net borrowings are in excess of $25 billion, with the hangover from the Corus purchase still a throbbing headache. The empire does need a new jewel or two, but instead of being covered by a patina of leverage, those should come sparkling with Ebitda.

Gadfly has previously suggested putting Air India into bankruptcy. However, it might be more feasible to restructure it by breaking the carrier into a FlyCo and a GroundedCo. A small stake for the government in a privatized FlyCo, which can service about $3 billion of new aircraft-purchase debt, could pay for some of the loss that state-run lenders would suffer on their exposure to GroundedCo.
If the country's sputtering banks were to add GroundedCo's remaining $5 billion debt to their $180 billion kitty of stressed assets, the provisioning would overwhelm them. The authorities would have to give the lenders some leeway by, for instance, swapping advances at face value with sovereign-backed Air India restructuring bonds, which wouldn't need too much capital to hold.
Would Natarajan Chandrasekaran, the new Tata Group chairman, want to be anywhere near this mess? 1 It all depends on the man who's given him the job. Ratan Tata should make his disinterest known. It's hardly eight months since ousted former chairman Cyrus Mistry accused him of keeping alive a failed-small car business solely because it was his baby. Mistry, the group's second-biggest shareholder, also questioned the logic of entering aviation.
As a debt-light FlyCo, Air India may deserve a second look. It has more than 100 relatively new planes, as well as landing and parking rights both in congested Mumbai, and -- dating back to the 1940s --  in London, which would be expensive today. But if the carrier arrives with all its extra baggage, then the Tata Group's runway is too short now for a safe landing.
Already, employees are threatening to oppose privatization. To turn around the airline operationally, many of them will have to be left behind at GroundedCo.
Before it's here, it's on the Bloomberg Terminal.
LEARN MORE