U.K.'s Davis Slaps Down Tories Plotting to Get Rid of May
By
Davis says Conservatives must focus on getting job done

Sunday Times: Hammond being lined up as caretaker leader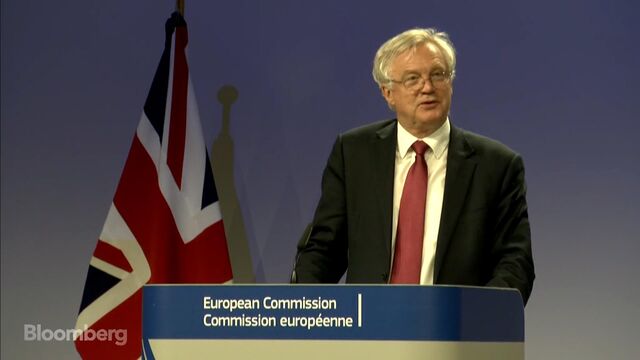 Follow @Brexit for all the latest news, and sign up to our daily Brexit Bulletin newsletter.
Conservative lawmakers plotting to replace Theresa May must stop being so "self-indulgent" and focus on governing Britain, Brexit Secretary David Davis said on Sunday, amid reports of secret moves to oust the prime minister.
Davis said it would be catastrophic to hold a leadership contest now, just as he's trying to negotiate the terms of Britain's withdrawal from the European Union.
"I happen to think we've got a very good prime minister -- I know she's coming under a lot of pressure at the moment," Davis said in an interview with the BBC's "Andrew Marr Show." In a direct message to Tory plotters, Davis said: "Stop being so self-indulgent, get on with the day job."
May's leadership under attack after her gamble on an early general election went wrong -- leaving Britain with a weakened government just as Brexit negotiations begin. Instead of winning the landslide victory seen in polls when the election was called, she lost her majority in Parliament and with it the right to govern without support from other parties.
In the weeks since the June 8 vote, May has been trying piece together a power-sharing deal with Northern Ireland's Democratic Unionist Party, whose 10 lawmakers would give her the votes to pass laws. So far, the two sides haven't reached a deal and time is running out before May faces a crucial vote on her legislative program this Thursday.
Hammond, Davis Alliance
Against this backdrop, rivals inside May's Conservative Party are said to be maneuvering to replace her. A report in The Sunday Times said some Tories want Chancellor of the Exchequer Philip Hammond to take over as a temporary leader, in an alliance with the Euro-skeptic Davis, who would become deputy prime minister as he continues to lead Brexit talks. 
Allies of Foreign Secretary Boris Johnson -- who has also been touted as a potential leadership candidate -- are raising concerns over a Davis-Hammond joint ticket, according to both the Sunday Times and the Mail on Sunday.
In the Marr Show interview, Davis confirmed a report in the Mail that he was urged to stand for the leadership at a meeting last week of more than 40 Conservative members of Parliament. He sad he immediately shut down the idea, urging colleagues to get on with the job of government.
"I want a stable backdrop to this Brexit negotiation," Davis said. Voters expect the Conservatives to govern Britain responsibly and to deliver "a decent economy, to deliver a decent life for them, and of course to deliver Brexit."
Trade Secretary Liam Fox also urged colleagues to rally around May. "We have big tasks ahead of us," Fox said in an interview with The Sunday Telegraph. "The public would not be impressed by a bout of navel gazing by the Conservative Party at the present time."
Before it's here, it's on the Bloomberg Terminal.
LEARN MORE