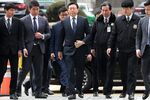 South Korean President Moon Jae-in has a funny way of showing he's taking chaebol reform seriously.
When the newly elected leader goes on his first state visit to the U.S. this week, along for the ride will be the same old gang from the mega-conglomerates Moon pledged to shake up. Let's remember how he specifically excoriated Samsung's "anti-market practices and illicit favors."
Top officials from business groups including Samsung, Hanjin, Hyundai, SK and LG will join Moon on his U.S. trip, Bloomberg News reported Friday. They will also take part in a summit in Washington to explore new business opportunities.
Putting together junkets like these to stoke cross-border commerce is hardly uncommon. And the 52-person delegation will also include some smaller businesses.
But the image of government leaders shoulder to shoulder with chaebol heads doesn't exactly jibe with Moon's promises to cool the government's all-too-cozy relationship with the business chiefs who have dominated Asia's fourth-largest economy for decades. 
Indeed, it was the corruption scandal of Moon's predecessor, President Park Geun-hye, that paved the road for his election in the first place. Millions of people took to the streets to urge Park's resignation and arrest after she was found guilty of abusing the power of the presidency and taking bribes from companies.
Koreans were never naive about influence peddling, but were jolted into anger after hearing how Park pressured executives from Samsung and dozens of other firms to make donations to a foundation run by a longtime confidante, in return for favors. Still, as Gadfly noted at the time, her impeachment didn't signal the chaebol were in trouble.

Park, too, had promised to tame the chaebol when first elected. Her ouster, along with Moon's election, sent the benchmark Kospi index up 17 percent year to date as investors turned hopeful that reforms would spur economic growth.

Moon made some early strides with his appointment of Kim Sang-jo, a university professor known as the "conglomerate sniper," to head the country's trade and business watchdog.
Yet instead of immediately going after the companies as adamantly as he had in the past, Kim took the anti-chaebol rhetoric down a notch. In his first public appearance after being appointed, he pledged the cleanup would proceed in a "cautious" and "reasonable" fashion. Then, during a meeting with the top four conglomerates Friday, he emphasized "voluntary reform."
It's worth pointing out that the business delegation to the U.S. this week excludes Korea's fifth-largest conglomerate, the Lotte Group, suggesting the powerful family-run company remains in the doghouse after multiple family members were indicted on embezzlement, tax evasion and bribery charges.  The 94-year-old founder Shin Kyuk-ho will step down from his post as board director of Lotte Holdings Co., the company said Saturday.
But Kwon Oh-hyun, co-vice chairman of Samsung Electronics Co., will represent South Korea alongside President Moon, despite the ongoing bribery trial of Samsung heir Jay Y. Lee. 1
In other words, reform may still happen, but don't count on a fast track from Korea's first liberal president in a decade.
With the nation's four largest chaebol accounting for more than half the value of the stock market, the situation amounts to what Victor Cha, Korea chair at the Washington-based Center for Strategic and International Studies, calls a mutual hostage situation between government and big business.
Moon can push for change, but he still needs the conglomerates to fulfill his other, perhaps more important campaign promise: to stoke economic growth. The government and the chaebol know they can't live without one other.
Before it's here, it's on the Bloomberg Terminal.
LEARN MORE