Merkel's Election Opponent Slams Her for Being Too Nice to Trump
By
German SPD evokes Schroder's 'no' to U.S.-led Iraq invasion

Three months to go until voter verdict on chancellor contest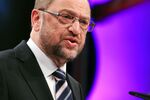 Angela Merkel's main challenger is casting Donald Trump as an erratic leader who must be stymied, toying with a playbook that helped the Social Democrats win a German election by opposing the U.S.-led Iraq war.
Three months before Germans go to the polls, the rhetoric signals that Trump is likely to become a regular target as Social Democratic candidate Martin Schulz steps up his effort to close a poll gap and unseat Merkel in the election on Sept. 24.
At a party convention aimed at regaining his early momentum, Schulz blasted Merkel as soft on an unreliable U.S. president and said the SPD won't surrender to Trump's "defense-spending logic." He got help from Gerhard Schroeder, Merkel's predecessor, who flagged his rejection of the invasion of Iraq under President George W. Bush in 2003.
"What's going on now in the U.S., you have to criticize it openly and firmly," Schroeder, the last Social Democrat to govern Germany, told delegates. "I can still remember those who wanted to follow the Americans anywhere, including into the Iraq war."
That was a jab at Merkel, who was opposition leader during the invasion. She criticized Schroeder's anti-U.S. position at the time in a Washington Post op-ed that backed military action against Saddam Hussein as a last resort.
'Cashing In'
Dealing with the U.S. president is a balancing act for Merkel, who has to take into account the German public's deep suspicion of Trump while engaging with him on the global stage. The SPD's attacks increase pressure on her to take a tough stance when she hosts Trump along with other Group of 20 leaders in Hamburg on July 7-8.
Schulz, whose party trails Merkel's bloc by as much as 16 percentage points in polls, told the convention on Sunday that the chancellor didn't go far enough in criticizing Trump when she said in May that long-running postwar partnerships were "to some extent over." She also didn't squarely reject Trump's demands to boost German defense spending, Schulz said.
"There's a competition of trying to cash in on these populist feelings when it comes to Trump," Carsten Nickel, an analyst for Teneo Intelligence in Brussels, said by phone. "In a way, it's probably too easy."
Tax the Rich
Schulz, 61, previously derided the U.S. president's insistence that Germany pay more for defense. Trump chided NATO leaders at a May summit in Brussels, saying some owed "massive amounts of money."
"We don't know whether we can rely on the U.S., but we know very well that we can no longer rely on an erratic President Donald Trump," Schulz said on Sunday.
Party delegates in the western industrial city of Dortmund approved an SPD platform to cut taxes on low incomes, raise taxes on the wealthy and stabilize retirement benefits.
The plan is meant to appeal to core SPD voters and set a counterpoint to years of focusing on balanced budgets by Merkel's Christian Democratic-led bloc.

With Merkel, 62, occupying a considerable swath of Germany's political center, Schulz criticized what he called her penchant for lulling voters by avoiding hard choices and allegedly capitalizing on low turnout.
"In Berlin circles they may call this 'asymmetric demobilization' -- I call it an attack on democracy," Schulz told the cheering crowd in his 80-minute speech. Later, in an interview with ZDF television, he said he didn't mean to imply that Merkel was anti-democratic.
Nothing Decided
"It's an absurd accusation," Armin Laschet, a deputy chairman of Merkel's Christian Democratic Union, told ARD television on Monday. Turnout in this year's three state elections, all won by the CDU, actually increased, he said.
Schroeder, who defeated Helmut Kohl in 1998 and won re-election in 2002 after taking a stand against the Iraq war, sought to rally his party. "Nothing is decided," he told delegates, evoking his comeback in the 2005 election that saw him narrow a poll gap and nearly deny Merkel the chancellorship.
"In the end, it wasn't enough -- but we fought and we caught up," Schroeder, 73, said in Dortmund. "What happened back then also goes for you."
Before it's here, it's on the Bloomberg Terminal.
LEARN MORE