Nigeria Sees 2017 Tax Amnesty Adding $1 Billion to Public Funds
By
Govt will launch plan June 29 to recover debt from firms

Fund expected to reduce govt borrowing, fund infrastructure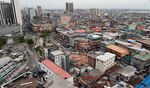 The Nigerian government expects to raise more than $1 billion in a tax amnesty program that encourages individuals and companies to clear unpaid bills by the end of this year.
Tax evaders including multinational companies will have from July 1 to Dec. 31 to "regularize their tax status in exchange for immunity from prosecution of tax offenses,'' and "from penalty charges and interest'' the finance ministry said in an emailed statement. Vice President Yemi Osinbajo will launch the program on June 29.
The funds raised will enable the West African country, which collects taxes amounting to about 6 percent of its economic output, to reduce "borrowing needs, allow investment in vital infrastructure and spur development,'' the government said.
Nigeria plans to increase spending this year by 21 percent to 7.4 trillion naira ($22.8 billion), according to a budget signed into law this month. The fiscal plan, aimed at spurring economic recovery from its first recession in 25 years, requires funds to help the oil producer plug a deficit the government expects will amount to about 2.2 percent of gross domestic product.
Tax evaders in the country are subject to imprisonment of up to five years, payment of penalties of up to 100 percent of tax owed plus a compound interest rate of 21 percent per year as well as forfeiture of assets, according to the statement.
Before it's here, it's on the Bloomberg Terminal.
LEARN MORE