U.S. Jobless Rate to Fall to 3.5% in 2018, Forecaster Hyman Says
By
Booming stock market and higher house prices lifting sentiment

Wages to rise later in business cycle as job market tightens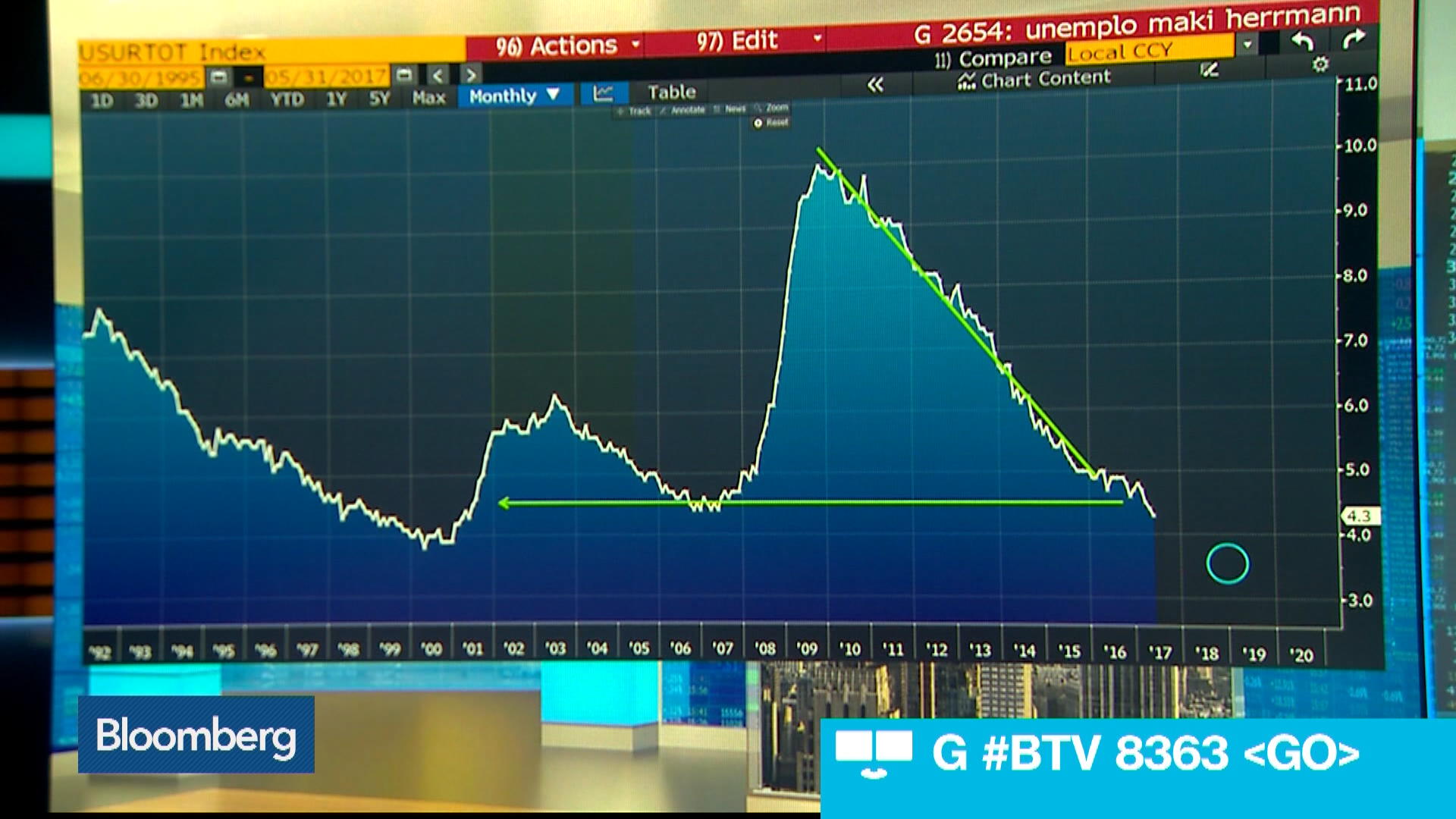 The U.S. unemployment rate will sink to a the lowest level in almost a half century in the next 12 months, economic forecaster Ed Hyman predicted.
"I think it will be three-and-a-half a year from now," Hyman, vice chairman of the investment-banking firm Evercore Partners Inc. and head of Evercore ISI's economic research team, said in an interview Friday with Francine Lacqua and Tom Keene on "Bloomberg Surveillance." "If that's true, then the odds are pretty good that wages will pick up and that'll help the bottom of the economy."
Hyman's forecast is lower than any estimate for the jobless rate in the second quarter of 2018 in Bloomberg's monthly survey of economists. Respondents to that poll earlier this month expected unemployment during that period to range from 3.9 percent to 5.1 percent, with a median of 4.2 percent.
The jobless rate in May was 4.3 percent, the lowest since 2001.
Soaring stocks and rising house prices are underpinning confidence, boosting consumer and capital spending, he said. Continued economic growth should help reduce the gap between those at the top of the income scale and those at the bottom, he said.
"The main thing I'm focused on is for the bottom of the economy to get better -- the top is doing fine," Hyman said. "The main thing that needs to happen to get that to work is for wages to accelerate."
While wages aren't picking up much in advanced economies including the U.K. Australia and Canada, Hyman said "I think it will happen later on in this cycle" because "eventually you just won't have enough labor."
Quotes from this Article
Before it's here, it's on the Bloomberg Terminal.
LEARN MORE