politics
Trump Names Jets Owner Woody Johnson as Ambassador to U.K.
By , , and
Johnson has donated to Republican campaigns for years

70-year-old is great-grandson of founder of Johnson & Johnson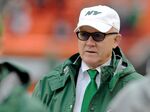 President Donald Trump named New York Jets owner Woody Johnson to serve as U.S. ambassador to the U.K.
Johnson, 70, is also chairman and chief executive officer of New York-based Johnson Co., a private asset-management firm. According to the White House statement, Johnson holds a bachelor's degree from the University of Arizona and has served on the President's Export Council and the President's Commission on White House Fellows.
He's the great-grandson of the founder of Johnson & Johnson, the health-care products manufacturer. His football team was valued at $2.6 billion in November 2016 by Peter Schwartz, a consultant with Anderson Economic Group in New York. 
The U.K. ambassador post is historically given to crucial campaign supporters. Johnson has donated to Republican campaigns for years and has long known Trump. He served as finance chairman for Jeb Bush's failed presidential campaign. The appointment is subject to Senate confirmation.
Trump Backer
Johnson backed Trump when Bush dropped out of the race. He gave $349,000 to Trump Victory, which split donations between Trump's campaign, the Republican National Committee and state Republican parties. The committee reported receiving the bulk of the money ($249,000) on Nov. 10, 2016, two days after Trump's election, according to Federal Election Commission records. 
Trump hinted at his choice in January, making an offhand announcement during a luncheon he was hosting at his new hotel in Washington. Congratulating Johnson, Trump referred to him as an "ambassador" and said he was "going to Saint James," a reference to the formal British title for foreign envoys.
Johnson will step into challenges that have arisen in the six months since Trump took office, notably how to stabilize the U.S.-U.K. relationship in the post-Brexit world and how to win over Britons who have shown open hostility toward the U.S. president.
A planned state visit to the U.K. by Trump still hasn't been formally scheduled, and no reference to it was made by Queen Elizabeth II during her speech to parliament this week -- an omission observers noted as a departure from tradition in advance of state visits.
No Warm Welcome
Trump isn't looking at a warm welcome if he makes the trip, an uncommon notion in a relationship as tightly bound as the U.S. and U.K. Protests broke out in London after he was invited, and more are expected if or when Trump does make the journey.
Tensions between the countries grew when Trump criticized London mayor Sadiq Khan after the terrorist attack on London Bridge, calling Khan's response "pathetic" and drawing a rebuke from May.
With negotiations on Britain's departure from the European Union under way, the shape of the U.S.-U.K. trade relationship will be among Johnson's top priorities. While his predecessor Barack Obama said Britain would be "at the back of the queue" if it voted to leave the European Union, Trump initially promised a quick trade deal with the U.K. before appearing to prioritize an agreement with the bloc it is leaving.
Johnson will replace Matthew Barzun, who was appointed by Barack Obama in 2013.
(
Updates with Senate confirmation requirement in fourth paragraph.
)
Before it's here, it's on the Bloomberg Terminal.
LEARN MORE