markets
The BOE Is Too Big, Distracted and Scared to Hike, Forbes Says
By and
Shifts in BOE role may make it harder to lift interest rates

Outgoing policy maker Forbes says tighter policy needed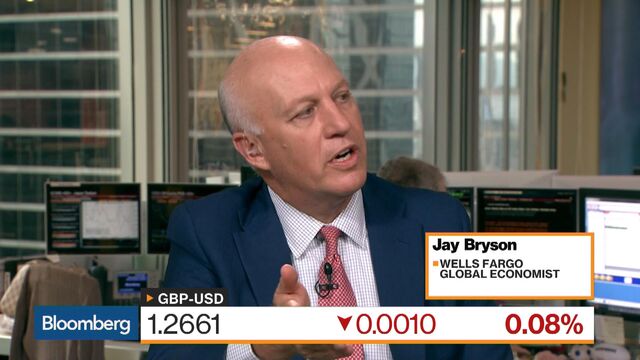 The public eye can be unforgiving, and one Bank of England policy maker thinks it may be making it harder to raise interest rates.
In her final speech before leaving the MPC at the end of the month, Kristin Forbes has said the bank's broadened remit has put too much work on officials, while scrutiny of every decision may have made them wary of opening themselves up to criticism.

Forbes's comments were part of an analysis of why interest rates have remained so low in recent years, the "failure to launch" as she puts it.
"Central banks play a much greater role, are much more transparent, have many more tools working with different policies," she said. "But at the same time, like any policy, like any institutional changes, it's probably going to involve trade-offs."
Forbes's term at the BOE overlapped with several general elections, a vote on Scottish independence and the decision to leave the European Union. The central bank came under fire for wading too far into political debate and was accused of exacerbating inequality. Now there is disagreement among officials as to whether they should combat rising inflation by withdrawing some of the stimulus introduced in the aftermath of the referendum.
Expanded Powers
While acknowledging she hasn't seen evidence that the government has pressured individual policy makers, Forbes noted calls from some lawmakers last year for Carney to quit over his intervention in the charged Brexit debate. There's also the bank's more public profile, both as a result of Carney and its new expanded powers. Those include the responsibilities of the Financial Policy Committee, which was created to oversee risks to the financial system. Some of its members also sit on the rate-setting MPC.
Those powers, which added oversight of banks and lending to price stability, alongside a need to publicly justify their actions, means rate setters may be "more hesitant to 'take away the punch bowl' and make the difficult decisions on inflation," according to Forbes.
On the make-up of the BOE and its multiple committees and mandates, Forbes is damning of one part: the burden it puts on some officials. As a part-time member of the BOE who sits on one committee, she said she struggled at times with the workload. On Thursday, she raised the question whether those with multiple mandates can make the time for everything.
She also noted that the internal members of the MPC, who have a wider range of responsibilities, are devoting a smaller portion of their speeches to monetary policy. And since 2013, when additional mandates were added, internal members haven't cast a single dissenting vote on interest rates. Before then, they had cast more than a third of minority votes.
Core Role
While the revamped BOE was designed to create more joined-up thinking and better oversight of instabilities across the economy, Forbes wondered whether it may be distracting from inflation fighting -- long seen as central banks' core role.
"Central bankers may place more weight on supporting the economy today and worry less about future risks related to low interest rates and high inflation if they are constantly on the firing line for the current state of the economy -- including for issues other than inflation," Forbes said in the speech.
She also restated her view that rates need to go up now. She voted to tighten policy at the last three MPC meetings, and opposed some of the stimulus the bank unveiled last year after the Brexit vote.
With Forbes deciding not to extend her tenure at the BOE after a three-year term, the speech is her parting shot.
"This discussion is not intended to imply that anyone is making a decision for political reasons or making the wrong decision,'' Forbes said. "The main lesson that I draw is that changes in the institutional structure of central banks, including changes in their remits, the increased expectations for central bankers, and the increased demands on their time, may have shifted focus and risk assessments in the portion of their role relevant to monetary policy."
— With assistance by Scott Hamilton
Before it's here, it's on the Bloomberg Terminal.
LEARN MORE