Supreme Court Says It Will Issue Last Opinions of Term Monday
By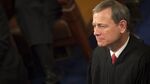 The Supreme Court will issue the last opinions of its nine-month term on Monday, Chief Justice John Roberts said.
The court has six argued cases awaiting decision, though it could schedule some for a second argument in the term that starts in October. The court heard three of those cases before Justice Neil Gorsuch was sworn in.
President Donald Trump's bid to revive his travel ban is on a separate track, and the court could act on that issue at any time.
Before it's here, it's on the Bloomberg Terminal.
LEARN MORE