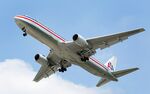 Qatar Airways Ltd.'s attempt to acquire a stake in American Airlines Group Inc. is a politically charged, curiously timed and symbolic move. As investments go, though, it's not a bad idea.
The state-owned airline on Thursday said it's planning to build a passive position in American, with no involvement in operations or governance. Qatar Airways can't buy more than 4.75 percent of the U.S. carrier without board approval, but it aspires to acquire a stake of as much as 10 percent, which would put its shareholder influence on par with Warren Buffett's Berkshire Hathaway Inc. Its stated reasoning? "A strong investment opportunity."

The odds of that being the only motivation are slim. American and Qatar Airways aren't exactly chummy; the U.S. carrier has petitioned President Donald Trump to review whether the airline and its Persian Gulf peers are using government subsidies to aggressively lower prices. Trump himself appears to have soured on Qatar, which has found itself deserted by its Middle Eastern neighbors amid accusations it supports Islamic terrorist groups. The mere fact that this particular carrier has the word "American" plastered over its planes could be a selling point as Qatar Airways tries to strengthen its relationship with the U.S. and a president who likes grand, symbolic gestures.
But looking strictly from the standpoint of the airline's fundamentals, Qatar Airways' buy-American strategy has merits. The stock is trading near its highest price in two years, but valued at a discount relative to shares of other more consistently profitable transportation companies. A big part of that gap is due to wariness over whether the airline industry really has evolved into a reliable money maker. We may need a tough downturn to know for sure, but the trends are moving in the right direction. 

For one, it looks like the pricing power stabilization promised by the wave of consolidation in the industry is actually happening. Airlines survived a 2015 fare war and a glut of capacity amid cheap fuel prices and are starting to see the amount of revenue they can collect for each passenger flown a mile tick consistently upward. A few quarters does not a trend make but it's progress. 

At American, part of those gains may come from a plan to separate its economy section into multiple classes in an effort to get customers to pay a bit more for luxurious features like ... a seat assignment. As ridiculous and annoying as that is, a lot of passengers probably will cough up the extra $20 or so for the convenience of boarding earlier and getting their carry-on luggage on the plane. American thinks it can generate $1 billion in extra revenue this way.
Couple that with an injection of high-margin revenue from new credit-card agreements and a planned wind-down in spending on plane upgrades and you get a more stable airline that will throw off a decent amount of cash, says Marc Scott, a portfolio manager at American shareholder American Century Investments. American expects to earn at least $3 billion pre-tax annually in tough times, with a goal of $5 billion for an average year.
Analysts are skeptical, with only a handful recommending investors buy the shares. Every sign of rising costs -- like American's decision to grant pay raises to pilots and flight attendants or United Continental Holdings Inc.'s promise to go on offense and add capacity -- sparks a new wave of jitters. For an industry littered with bankruptcies, a little paranoia is healthy. But for airlines as a whole, and American in particular, it's looking like the positives will outweigh the negatives over the long term. Buffett certainly thinks so, as does Qatar Airways, whatever its political motivations.

It's an open question whether this proposed stake acquisition actually occurs. Qatar will have to get U.S. approval and that's far from a given in a political environment fraught with protectionist impulses. Even if it obtains regulators' consent, it's difficult to see why American would want to approve a major stake sale to a rival it's openly sparring with; CEO Doug Parker said in a letter to employees that the company wasn't "particularly excited" about the outreach and has no intention of changing its stance on Qatar Airways' government subsidies.  As Gadfly's David Fickling notes, it has political reasons of its own to turn Qatar Airways down. 
But if Qatar Airways can't buy up American shares, other investors can.
Before it's here, it's on the Bloomberg Terminal.
LEARN MORE