Your Evening Briefing
Bloomberg News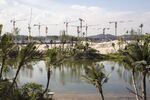 When China got involved with Malaysia's plan to build a new city right next door to Singapore, the project took off in a big way. Developers poured in cash and planeloads of Chinese buyers arrived to put down deposits for apartments yet to be built. But now the $100 billion city has hit a roadblock: China's clampdown on an exodus of money used to purchase overseas property has spooked some buyers, who fear punishment for breaking the rules. And while building continues, developers are increasingly having to look outside China to fill the homes. It's just one example of how China's economic boom is causing ripples globally. Another is the effect that Chinese companies have had on Hong Kong's stock market. Check out our infographic here.
Japan's millennials are different to their job-hopping counterparts overseas.  When it comes to employment, Japanese jobseekers are looking for stability and security. But that's proving to be a headache for the Bank of Japan as it tries to stoke inflation and economic growth. The bank wants to see wages increase, which will in turn fuel higher prices and kick-start the economy. But a lack of movement in the jobs market is keeping those wage increases frustratingly low.
Etihad Airways wants you to pay for its empty seats.  The Abu Dhabi-based airline will let economy passengers coveting more elbow room bid online for adjacent seats as it explores new ways to generate revenue in a tough market. The airline says that by charging passengers for additional services, it can keep prices "as low and as competitive as possible."
Bull or bear? There's something for everyone in gold right now.  Bearish investors see no incentive to hold the precious metal because equities are climbing, the global economy is recovering and the Fed has pledged to increase U.S. interest rates even more this year. At the same time, bulls say gold is an appealing hedge as long as Donald Trump's presidency remains mired in controversy, and as terrorist attacks and geopolitical tensions heighten risks for other assets. These charts offer something for everyone.
Google is quietly scrubbing private medical records from search results. The web giant has decided to scrub an entire category of online content — personal medical records — from its search results. Google lists the information it removes from search results on its policy page. On Thursday, the site added the line: "confidential, personal medical records of private people." Also on the list? Financial information such as credit card numbers, content that violates copyright laws and "revenge porn.''
The world's workers have got more to worry about than a robot apocalypse. A recent study found that each new industrial robot displaces six employees, and automation is on the rise in fields from radiology to volleyball coaching. But if work is being automated out of existence, how do you explain a 2.8 percent unemployment rate in Japan, one of the world's most roboticized nations? Let's not fear the rise of the machines just yet. We've got other things to worry about.
This mansion on Vancouver's 'Billionaires' Row' has gone on the market for a record $48 million. The five-bedroom, 12-bathroom home is perched above a popular beach and features expansive views of downtown Vancouver and snow-capped mountains across the bay. In a market where rapid home-price gains are seemingly unstoppable, the asking price is the highest ever for a residential single-family home. The price of the average detached house in Vancouver climbed 5 percent in May.

Before it's here, it's on the Bloomberg Terminal.
LEARN MORE