Your Evening Briefing
Here are today's top stories
Bloomberg News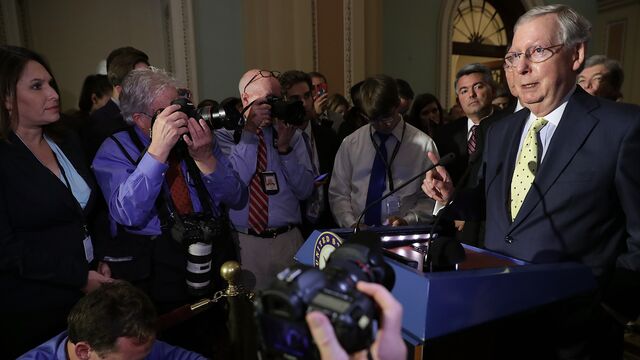 Want to receive this post in your inbox every afternoon? Sign up here.
Good afternoon. Summer emphatically announced its start this week in the Northern Hemisphere. Although it brought some miserable heat to the Southwest U.S., at least it signals the beginning of Summer Fridays and weekends away. When the world's wealthiest get out of town, to the Hamptons in New York or their city's equivalent, they seek the high-end and low-key. Even if you're not jumping into one of those pools this weekend, looking at the pictures and prices ought to help cool you down. –Emily Banks   
Trump said Comey's "story may have changed" after his tape threat. "When he found out that I – you know, that there may be tapes out there, whether it's governmental tapes or anything else and who knows, I think his story may have changed," Trump said in a Fox News interview that aired Friday. His admission Thursday that there are no tapes risks exposing him to fresh legal jeopardy and weakens his credibility in the eyes of investigators probing ties between his associates and Russia.
Killing Obamacare might save it–for a while. Insurance companies lost money selling policies in the individual market last year, as premiums from the healthy weren't enough to cover costs of the sick. The bill Senate Republicans hope will repeal Obamacare includes money to help struggling insurers: $50 billion in the next four years, more than enough to cover losses. The GOP had fought provisions in the original law intended to stabilize the individual market.
The Saudi-led alliance that cut off Qatar over its foreign policy and alleged support for Islamists has drawn up a list of 13 demands to end the three-week-old crisis in the Gulf. Among the demands: close Al-Jazeera and its affiliates, and isolate Iran.
Target has begun removing Hampton Creek's products from stores. A Target spokeswoman said the company received allegations of food safety concerns as well as accusations of manipulation and adulteration of the products. Hampton Creek's business with Target is worth $5.5 million per year and is about a third of its retail businesses.
The woman behind Trump's empire of swag is about to ship the millionth MAGA cap. Virtually every Trump-sanctioned hat, yard sign, button, or T-shirt in circulation has passed through Christl Mahfouz's facility. The red "Make America Great Again" hat, still the best-seller, costs $25 in the official Donald J. Trump online store. Keeping an online shop active between elections is crucial these days.
We still have no clue what Brexit means. Few really expected one year ago that the U.K. would vote to leave the European Union. Today, talks are barely under way, with a seriously weakened prime minister. That has some hoping the U.K. could still change its mind about the whole thing. Here's what Brexit watchers expect now.
Ritz-Carlton is building the anti-cruise ship. The five-star hotel brand will launch three small, ultra-luxury ships with laid-back itineraries and spacious, open-concept design schemes that flip the traditional cruise experience on its head. The maiden vessel will pull out of the shipyard late in 2019, and it'll be the first time a hotel company hits the high seas.
Before it's here, it's on the Bloomberg Terminal.
LEARN MORE