business
Gabe Pressman, New York Newsman From Dawn of TV Age, Dies at 93
By
He helped invent the role of the television journalist

Covered the news for 60 years in a 'brash, sentimental' style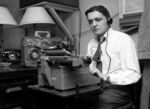 Gabe Pressman, a mainstay of New York City journalism who helped invent the role of television newsman in the 1950s and then lived it for 60 years, has died. He was 93.
He died Friday, according to WNBC-TV, the NBC-owned station in New York City, where he was a senior correspondent. No cause was given.
For print, radio and then television, Pressman covered and questioned 10 mayors, from William O'Dwyer in the 1950s through Bill de Blasio, elected in 2013. He moderated debates between candidates for city and statewide office in New York, and statewide office in New Jersey.
His blunt, adversarial style prompted former New York Senator Alfonse D'Amato to accuse him "of doing a hatchet job" during a TV interview. Former Governor Mario Cuomo once quipped to him on-camera, "I need a lawyer when I talk to you."
He covered visits to New York by the Beatles, Elvis Presley (in uniform, shipping out for U.S. Army service in Germany) and Nikita Khrushchev, and questioned newsmakers on his Sunday morning talk show, "News Forum." While some WNBC colleagues moved up to the national network, including Matt Lauer and Marv Albert, Pressman remained New York City's own.
He was "the quintessential New York television reporter -- brash, sentimental, pugnacious," New York Times television critic John Corry wrote in 1983, so "he belongs in New York, not on a homogenized network."
Israel Reporting
The son of Jewish immigrants, Pressman traveled to Israel to report on Holocaust survivors, war, peace initiatives and New York-area Jews living and studying there.
A familiar face to generations of New York TV viewers, Pressman won awards for his 1981 special report on homelessness in New York City, "Shame of the City." All told, he won 11 Emmy Awards, plus a Peabody Award for "Asylum in the Streets," which described the plight of the city's non-hospitalized mentally ill, according to a biography on the WNBC website.
Gabriel Pressman was born on Feb. 14, 1924, in the Bronx, New York, the first of two boys. His Austrian-born father, Benjamin, was a dentist who moonlighted as a magician, "Dr. Magic." His mother, the former Lena Rifkin, was born in Russia.
"I knew what I wanted to be when I was about 8 years old: I wanted to be a newspaperman, I wanted to be a reporter," he said in an interview for the website of the New York State Broadcasters Association, which inducted him into its hall of fame in 2006. "My father was very indulgent. He put a microphone in the bathroom, and I could broadcast into the family radio, which was in the living room."
Military Service
He graduated from New York University in 1946 with a degree in history and government, his studies interrupted by service in the U.S. Navy during World War II. He worked as a communications officer on a submarine chaser in the South Pacific that took part in two invasions of the Philippines.
He received his master's degree in 1947 from Columbia University's Graduate School of Journalism and took a reporting job at the Newark Evening News in New Jersey. On a Pulitzer Traveling Scholarship from Columbia, he toured Europe for 15 months and wrote freelance stories for the Overseas News Agency.
In 1949, he joined the New York World Telegram and Sun as a City Hall reporter. Moving from print to broadcast, he became a roving reporter for WRCA radio in 1954. Two years later he began roving the city for WRCA television, predecessor of WNBC.
'Covered Everything'
"In the beginning nobody told us what to do, so it was pretty wild," he recalled. "I went around town interviewing politicians but also doing odd stories in the street, because I covered everything that moved in my early days. I was the only reporter."
He was among the first journalists on the scene of death and destruction in Brooklyn's Park Slope neighborhood following the December 1960 collision of two commercial airliners above New York City.
He hosted a local evening newscast that ran five minutes, then expanded to 10. In 1963, when New York newspapers were shut down by a printers' strike that lasted 114 days, the show -- "The Pressman-Ryan Report," co-hosted by Bill Ryan -- grew to a half hour.
The New Yorker magazine took notice of Pressman with a 1963 article on "the busiest reporter in town." He made his reporting rounds in a red 1962 Chevrolet station wagon "equipped with a mobile telephone, radio receivers for police and fire calls and a two-way short-wave radio, which he uses for communicating with his office," according to the story.
Salary Dispute
In 1972, unhappy with plans to reduce his role and his $85,000 salary, Pressman left WNBC for a $70,000-a-year job at independent station WNEW-TV, according to a 1977 report in the Times.
It said Pressman blamed "marketing consultants and their middle-American conceptions" of what a TV newsman should look like for why WNBC had turned against him. Pressman and WNBC reconciled, and he returned in 1980.
Pressman had three children from his first marriage and a fourth from his second marriage, to the former Vera Olsen, according to a 1998 profile in the New York Daily News. His younger brother, Paul, a psychiatrist, died in 2003.
Before it's here, it's on the Bloomberg Terminal.
LEARN MORE