Five Charts Show U.K. Stocks Struggling a Year After Brexit Vote
By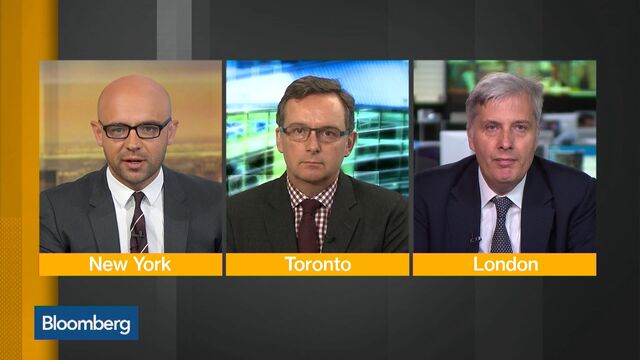 A year to the day after Britons voted to leave the European Union, sparking an initial selloff in the country's equity markets, five charts show U.K. stocks still struggling as Prime Minister Theresa May prepares to start the divorce negotiations in earnest.

Following the initial knee-jerk decline, the FTSE 100 rebounded as investors started to price in the currency effect for the index's multinational components, including Royal Dutch Shell Plc and GlaxoSmithKline Plc, which get most of their revenue abroad. The lower the pound, the higher the FTSE 100, which reached a record earlier this month. According to Morgan Stanley, companies listed on the benchmark roughly get 75 percent of their sales from outside the U.K.

Hardly unsettling until you start to factor out the slump in sterling, which paints a much less bullish picture. In U.S. dollar terms, the FTSE 100 is not far off where it stood right before the referendum, missing out on a sharp rally in global stocks, including euro-area equities. The Euro Stoxx 50 has climbed 15 percent in dollar terms over the past year.

While shares in global companies have gained ground over the past year as sterling slid, more domestic-oriented groups in sectors such as retail, telecoms and real estate have taken a pounding. BT Group Plc, Dixons Carphone Plc and Next Plc feature among the U.K. market's biggest losers since the vote.

Despite uncertainties about the economic impact of Brexit, FTSE 100 companies are expected to post a sharp rebound in profits this year, mirroring a global earnings revival. However, a big chunk of that is set to come from commodity-related sectors such as energy and mining. With crude oil falling into bear market territory this week, joining iron ore, the U.K. benchmark could see profit downgrades in the coming weeks when analysts start to factor in lower commodity prices.

But all is not lost. While U.K. stocks remain vulnerable to currency swings and commodity prices as the negotiations get under way, they offer the richest dividend yields among developed countries, well above government bonds. That makes them very attractive to yield hunters despite the stony road that lies ahead.
Before it's here, it's on the Bloomberg Terminal.
LEARN MORE