politics
Czech Billionaire Poised to Win Election Rejects Euro Adoption
By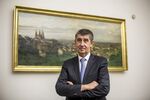 Czech billionaire Andrej Babis, a former finance minister whose ANO party is poised to win October general elections, is rejecting euro adoption, saying the country should keep the koruna to insulate itself from crisis.
"I don't want the euro," Babis, whose junior-coalition ANO party has a double-digit lead in opinion polls, said Friday in an interview on the sidelines of the reSITE cities conference in Prague. "I don't want to be guaranteeing Greek debt and Italian banks."
Giving up the koruna would deprive the Czechs of an important tool to spur economic growth in times of crisis, said the former finance minister, adding that the cap on the currency, which the central bank imposed to avert deflation until it removed it in April, "worked really well." His comments contradict those of his estranged ruling coalition partner, Prime Minister Bohuslav Sobotka, who warned last month that accelerating integration inside the euro area could push the Czech Republic to the European Union's periphery.
Babis isn't alone in shunning the euro. While five countries from ex-communist eastern Europe have joined since 2004 -- and all of the EU's new members are obliged to -- consecutive Czech governments have refused to set a date. According to a 2016 Eurobarometer survey, 72 percent of Czechs don't want to switch.
The tycoon, whose investments include agriculture, chemicals and media, also ruled out forming a coalition with the Communists or with the conservative TOP 09 party if ANO wins the election as expected. ANO would garner almost a third of the vote if ballots were cast now, up from 28 percent in April, according to a survey last week by the Stem pollster. Sobotka's Social Democrats fell into third place with 11 percent, behind the Communist Party.
Before it's here, it's on the Bloomberg Terminal.
LEARN MORE