Chinese Billionaire Says Lotus Car May Be Produced in China
By
Zhejiang Geely signs final deal for Proton, Lotus stakes

Acquisition is expected to be completed in three months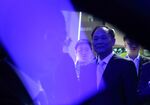 Chinese billionaire Li Shufu said his Zhejiang Geely Holding Group will consider producing Lotus sports cars in China after agreeing to purchase stakes in Malaysian carmaker Proton Holdings Bhd. and its British unit.
Geely signed a final deal to acquire 49.9 percent of Proton and 51 percent of Lotus Cars from Malaysia's DRB-Hicom Bhd., and expects to complete the transaction in three months, the Chinese automaker said in a statement in Kuala Lumpur on Friday. It will then form a core management team recruited from a pool of global candidates to ensure the smooth operation of Proton, the company said.
Li said the priority will be to make Proton and Lotus profitable and to sustain growth while embracing new technology trends of electrification, vehicle lightweighting and artificial intelligence. Geely, which bought Sweden's Volvo Cars in 2010, said the acquisition will help the automaker to be a major player in Southeast Asia and achieve a sales target of 3 million units by 2020.
"The deep regional knowledge we gain from Proton and Lotus through this transformative partnership, coupled with our technological expertise and leadership in innovation, opens the door for Zhejiang Geely to become a major player in the Asean market," Li said in the statement. "We will work together to make the most of our respective strengths."
James Bond
Lotus, whose cars were featured in the James Bond movies "The Spy Who Loved Me" in 1977 and "For Your Eyes Only" in 1981, has floundered under Proton management since being acquired for 51 million pounds in 1996. In all of 2016, it sold just 339 cars in its home country, according to registration data from the Society of Motor Manufacturers and Traders in London.
Geely will own a majority stake in Lotus Cars, Etika Automotive will hold 49 percent of the British carmaker. DRB-Hicom said last month that it's selling Lotus for 100 million pounds ($130 million) with each paying proportionately. Malaysian tycoon Syed Mokhtar Al-Bukhary controls both DRB-Hicom and Etika Automotive.
The Proton deal will include an investment of 170.3 million ringgit ($40 million) by Geely. In addition, the Chinese company will provide Proton with its Boyue sport utility vehicle platform, a transaction valued at 290 million ringgit, Syed Faisal Albar, group managing director of DRB-Hicom, said at press conference in Kuala Lumpur.
DRB-Hicom will transfer Proton's non-automotive assets, valued at 1.2 billion ringgit, to itself and these will then be pledged to the Malaysian government in lieu of the loans borrowed for Proton, said Syed Faisal. The carmaker will also repay 567 million ringgit taken from DRB-Hicom, he said.
The Malaysian carmaker will get 1.1 billion ringgit reimbursement from the government for part of the money it spent over the past few years on research and development as incentives to spur investments by companies in Malaysia. Proton will get the final disbursement of 250 million ringgit, as part of the total 1.5 billion ringgit loan from the government, said Syed Faisal.
Proton was set up in 1983 by former Prime Minister Mahathir Mohamad to steer the Southeast Asian nation's industrialization plan. The deal marks the end of a lengthy sale process for the carmaker, which had to seek a foreign partner as part of conditions for a government rescue loan. For Geely, the purchase comes about seven years after it bought Volvo Cars from Ford Motor Co. for $1.5 billion.
— With assistance by Pooi Koon Chong
Quotes from this Article
Before it's here, it's on the Bloomberg Terminal.
LEARN MORE