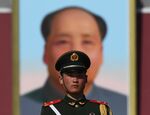 China bulls watching Beijing's inquiry into bank loans made to some of the country's serial acquirers: grab your hard hats. Expect deals to be roiled and markets to be on shaky ground in the lead up to the 19th National Congress of the Communist Party around October.
The China Banking Regulatory Commission has asked lenders to provide information on overseas advances made to HNA Group Co., Fosun International Ltd., Dalian Wanda Group Co. and Anbang Insurance Group Co. Those four have spent billions of dollars collecting trophy assets around the world, including Hollywood studio Legendary Entertainment LLC and New York's Waldorf Astoria hotel.

Although they've become adept at tapping Western financing models, including leveraging the target, loans from Chinese banks remain vital to their health.
Yet the timing of this information-gathering exercise is curious, coming just days after MSCI Inc. said it would allow mainland shares into its benchmark indexes.
It could be a coincidence. But the that fact it also comes just months before President Xi Jinping marks the start of his second term means it probably isn't.
Xi is due to replace some members of the Politburo Standing Committee, and high-profile billionaires whose empires have ballooned at the hands of Chinese state financiers are an issue he can do without. Anbang Chairman Wu Xiaohui, under the gun for his company's risky insurance-policy practices, has already been been detained by authorities, Caijing Magazine reported last week.
There's probably more to this than alleviating concerns about systemic risks posed by China's big companies. Capital controls have put the brakes on offshore acquisitions, and Beijing's campaign to rein in debt and control the yuan's declines seem to be working. Foreign-exchange reserves climbed for a fourth month in May, the longest streak since June 2014.
Investment bankers, still smarting from a coming-down-to-earth after last year's record M&A wave, now have to worry that deals they've helped come to fruition will actually close. It's been some months since Dalian Wanda's $1 billion acquisition of TV company Dick Clark Productions Inc. was called off.
There's quite a list of pending transactions out there: HNA's $1 billion tilt at Singapore logistics firm CWT Ltd.; Fosun's 10 percent stake purchase of Russia's biggest gold producer Polyus PJSC; and Wanda's development of a mini-city near Battersea Power Station in London. While shares of Wanda Film Holding Co. and Fosun regained some ground Friday, volatility remains.

What happens from here will depend to a large degree on the CBRC's assessment of the situation. Until October, however, the sidelines seem a safer bet for China bulls.
Before it's here, it's on the Bloomberg Terminal.
LEARN MORE