A Year Later We Still Have No Clue What Brexit Means
Five stories that shaped the week, and the big ideas behind them.
By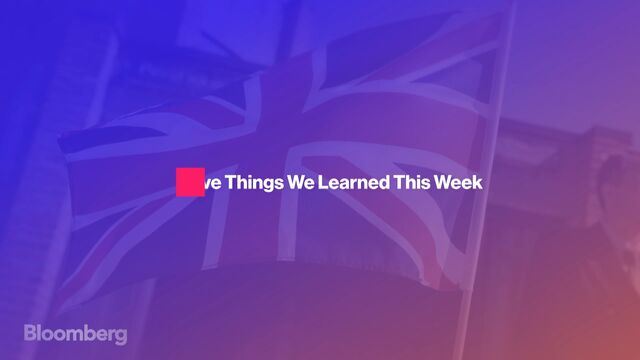 1) Brexit Means Brexit. Whatever That Means.
Few really expected the U.K. to vote to leave the European Union. To the global elite, the move seemed a massive step backward—quitting one of the most peaceful political and economic unions in history. Not even the guy in charge, David Cameron, wanted to leave, and Brexit's biggest backers were conceding defeat after the polls closed one year ago. But the country awoke to a new reality, and the results were clear. The problem was, now what? What was the U.K. going to do about migration and trade? The British people are simultaneously in favor of limiting the rights of foreigners to live and work in the country, but they also wanted free trade—something the other 27 members of the EU have said is out of the question. One year later, talks are barely under way under a seriously weakened prime minister. That has some hoping the U.K. could still change its mind about the whole thing.

2) A Millennial Will Take Over Saudi Arabia
Saudi Prince Mohammed bin Salman will likely become the youngest king in the country's modern era. At just 31, the millennial sometimes referred to as MbS was just named heir by his 81-year-old father, King Salman. Prince Mohammed was already in charge of oil and defense policy when he was named heir, replacing his older cousin as first in line to the throne. The move comes at a critical time for the kingdom. Saudi Arabia hopes that by selling shares in state oil giant Aramco, it can raise billions of dollars and help its economy diversify beyond oil. 
3) Posh Groceries Are About to Get Cheaper
Amazon.com Inc.'s $13.7 billion offer for Whole Foods shook the retail world. And the biggest changes are yet to come. Analysts predict that if the deal goes through, Amazon will work its magic over Whole Foods' notoriously expensive offerings, bringing prices down through a combination of technological efficiency and promotion of in-house brands, such as Whole Foods' 365 Everyday Value. It's the type of industry disruption some Federal Reserve members think is keeping inflation below 2 percent, even though the U.S. economy is growing and unemployment is low. "A stumble in corporate profit margins suggests companies are struggling to raise prices," Bloomberg's Matthew Boesler reports. Plans are already in the works: Amazon would like to lay off staff and reduce prices to better compete with Wal-Mart.
4) Who Needs Acting When You've Got Tequila?
And you thought "Gravity" was a blockbuster. Liquor giant Diageo agreed to buy a tequila company part-owned by George Clooney for as much as $1 billion. Clooney created the Casamigos tequila company in 2013 with developer Mike Meldman and entertainment entrepreneur Rande Gerber, hitching a ride on the American tequila boom. The company is still relatively small, expected to sell about 170,000 12-bottle cases this year, compared with the 26 million cases of Smirnoff vodka sold annually. 
5) Detectives Think They're Close to Solving the Greatest Art Heist in History 
For nearly 30 years, empty frames have hung on the walls of the Isabella Stewart Gardner museum in Boston, a reminder of a brazen, middle-of-the-night heist in 1990. Thieves stole $500 million worth of art, including paintings by Rembrandt, Vermeer, and Degas. Many think the pieces are lost forever—after all, there's virtually no market for stolen art, despite what Hollywood might have you believe. So people who end up with stolen works sometimes destroy them to get rid of evidence. But one detective thinks he can track them down with leads that point in the direction of former members of the Irish Republican Army.  

Before it's here, it's on the Bloomberg Terminal.
LEARN MORE