business
Soccer Stars Make Enough to Pay Taxes They Owe, Moscovici Says
By
Commissioner says sportsmen should avoid 'tricks' on taxes

Real Madrid star Cristiano Ronaldo facing tax evasion probe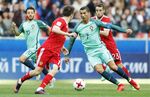 European soccer players make enough money to pay their taxes properly without resorting to "tricks" to reduce their obligations, Pierre Moscovici said on a visit to Madrid.
The European Union commissioner for economic affairs said players should be transparent about their finances as he criticized some of the elaborate financial structures that the sport's top stars have set up to process their earnings. He proposed imposing a legal obligation on players' tax advisers and lawyers to explain their clients tax structures to national tax authorities.

"All these soccer players get paid enough to not have to resort to fiscal tricks, if that's proved," he said. "I'm not going after professionals, I'm fighting against secrecy."
Real Madrid's Cristiano Ronaldo, the all-time leading scorer in the UEFA Champions' League, was accused last week of failing to pay about 15 million euros in taxes. The prosecutor's office in Madrid claims the Portuguese forward knowingly used offshore accounts to hide income from his image rights.
Ronaldo's case is the latest in a string of tax probes into high profile soccer player including Lionel Messi of FC Barcelona, who was convicted of tax evasion last year. Moscovici said soccer agents as well as financial and tax advisers and lawyers who work for sports stars also have a role to play in making the industry more transparent.
A spokeswoman for Ronaldo's management agency Gestifute in Porto, Portugal,
wasn't immediately available to comment when contacted by phone. Real Madrid President Florentino Perez said his player's conduct has been "exemplary" in an interview with ABC newspaper published Tuesday.
Before it's here, it's on the Bloomberg Terminal.
LEARN MORE