politics
Senate GOP Health Plan Adds Billions to Stabilize Markets, Source Says
By and
Bill provides over $50 billion in addition to CSR payments

McConnell says final vote may come as early as next week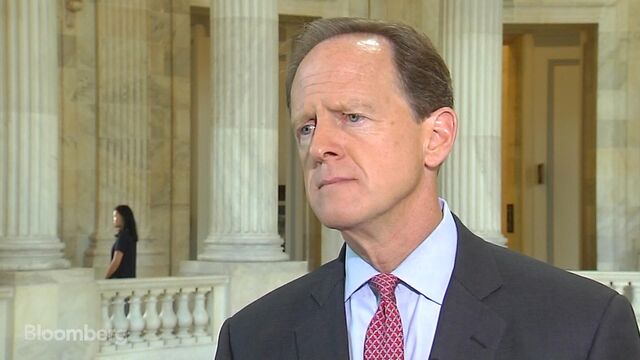 Senate Republicans' proposal to replace Obamacare would provide $50 billion over four years to stabilize insurance exchanges in addition to cost-sharing subsidy payments through 2019, according to a person familiar with the plan.
The plan, to be released Thursday after a private Senate GOP meeting, includes $15 billion a year in market-stabilizing funds over the next two years and $10 billion a year in 2020 and 2021, the person said.
It also would provide $62 billion allocated over eight years to a state innovation fund, which can be used for coverage for high-risk patients, reinsurance and other items. The draft bill would phase out Obamacare's expansion of Medicaid over three years, starting in 2021.
The plan has been drafted in secret by Senate Majority Leader Mitch McConnell and a group of aides, and most Republicans in the chamber are seeing it for the first time Thursday. Republican leaders plan to release the text of what they're calling a "discussion draft" on Thursday morning. There's no indication the GOP has enough support for it to pass in a vote that could come as early as next week.
Alaska Republican Lisa Murkowski said Thursday she can't say how long it will take her to decide whether the measure is something she can support.
"I have no idea if this is a three-page bill or a 3,000-page bill," she said before the meeting.
Hard to Oppose
One Republican senator said Thursday that many senators dislike parts of the bill, but will find it very difficult to vote against it. The senator said that it will be hard to explain to constituents a vote opposing a bill that delivers on seven years of promises.
The proposal from GOP leaders will retain some core features of the House bill: steep cuts to Medicaid that limit its spending in future years and a ratcheting back of Obamacare's open-ended tax subsidies.
But some of the changes, particularly adding a slower phaseout of Obamacare's expansion of Medicaid, are designed to appeal to senators from states that expanded the program and didn't want an immediate pullback. At the same time, the measure would provide a lower reimbursement rate for states under Medicaid.
"It will probably put some on my side of the aisle outside their comfort zone," Republican Thom Tillis of North Carolina told reporters Wednesday. "We have to look at these soft-landing strategies most importantly for the insured population but also to a secondary degree for the states so they have time to plan out their transition strategies as well."
Anthem Pulling Back
Senate Republicans are unveiling their plan at a critical time for Obamacare's insurance exchanges, where consumers can purchase individual coverage. Wednesday was the deadline for health insurers to decide whether they'll participate in the Obamacare marketplace next year.
Anthem Inc., one of the last large multistate insurers that hadn't significantly withdrawn from the market, announced Wednesday it's pulling individual plans from most insurance markets in Wisconsin and Indiana next year. The insurer blamed "continual changes and uncertainty in federal operations, rules and guidance, including cost sharing reduction subsidies."
Conservative Republican senators sounded a skeptical note about McConnell's emerging plan, which could suggest that the 50 votes needed to pass the measure may be elusive.
Rand Paul of Kentucky said he's very concerned that the Senate bill would include more subsidies for insurance than the House version.
"All of this discussion sounds to me like the federal government micromanaging and buying insurance for people," he told reporters. "The insurance companies make $15 billion a year in profit. I'm not for giving the insurance companies any money."
— With assistance by Sahil Kapur
(
Updates with Republican senator starting in seventh paragraph.
)
Before it's here, it's on the Bloomberg Terminal.
LEARN MORE