Photographer: Luke MacGregor/Bloomberg
politics
What Brexit Watchers Expect Now
By
13 analysts predict the outcome of the Brexit talks in 2019

Some see chance talks collapsing or Brexit being reversed
Follow @Brexit for all the latest news, and sign up to our daily Brexit Bulletin newsletter.
"People in this country have had enough of experts," pro-Brexit lawmaker Michael Gove declared in the referendum campaign.
One year on and Bloomberg is willing to give the experts another chance. We asked 13 "Brexit watchers" to tell us what they think Britain's divorce will look like when it occurs on March 29, 2019.
The responses varied. Henry Newman of Open Europe and Global Counsel's Gregor Irwin see the grounds for a deal, likely with a transitional period to smooth the way. Still, Clifford Chance's Phillip Souta estimates a 30 percent chance of no deal and Daniela Schwarzer of the German Council On Foreign Relations reckons the probability is 50 percent. Carsten Nickel at Teneo Intelligence even imagines a world in which a Prime Minister Boris Johnson keeps Britain inside the bloc.
Here's what the experts think:
Henry Newman
Director, Open Europe
Political punditry is high-risk when events are moving very quickly, and there's some chance of a new general election in the months ahead. But I suspect that by March 2019, Britain will be well on its way out of the EU's exit door.
The U.K.'s exit is likely to be staggered—with a medium-term transitional arrangement, potentially via the European Economic Area, looking more likely. Negotiations will certainly have had their fractious points, but it's relatively unlikely that the U.K. would leave the EU without any sort of a deal.
The parliamentary importance of the Democratic Unionist Party will strengthen the desire to find a solution for the Irish border, and a skeletal deal would help ensure basic practical issues such as around aviation. The most likely outcome is that an exit deal is concluded within the two years with some progress made on trade talks and future arrangements.

The U.K.'s Brexit policy is now likely to take a softer approach to immigration, but not one that maintains a free movement arrangement with the EU. EU nationals in the U.K., and U.K. nationals in the EU, will have secured their status.
But the Brexit path will likely still be towards an arrangement out of the single market and the customs union, with a full and comprehensive trade and customs deal. Europe will have kicked the can down the road on the Greek crisis, and its other existential threats, and may therefore feel more confident in striking a deal.
Nearly three years on from the referendum result of June 2016, the same arguments will still be rehearsed by ideologues on both sides: Brexiters will happily talk up Britain's opportunities outside the EU; Remainers will seek to blame Brexit for every set back; the public will want to move on.
In some respects leaving the EU will be the smaller challenge, compared to the greater task that will then face the U.K. - what we do with the new responsibilities, powers and freedoms we will then have will determine whether Britain makes a success of leaving the EU or not.
Gregor Irwin
Chief Economist, Global Counsel
The election has not only made the post-Brexit future more uncertain; it has made it more likely that we end up with one or other of the extremes. Before the election it looked as though the U.K. would stand by the 12-point plan set out in the government's white paper, that the negotiations would be tough and perhaps even break down at some point, but eventually we'd see a deal on the divorce terms and then a comprehensive free-trade agreement.

The U.K. would not get everything it wanted—far from it—but enough to take it through Parliament and keep the Conservative Party together. Now we are in a different world. The prime minister has neither the authority nor the majority to make the trade-offs required to get the deal she wants.
If she tries to soften the approach or make concessions on issues like money or regulation—which she must—she will be opposed by hard-line euroskeptics in her party. This makes it more likely that we end up with no deal: not by design, but by accident, as the government could lose control of the process.
If the negotiations are faltering, it's also possible we will see a last-minute effort to agree a softer Brexit with cross-party support. That would probably mean agreeing a new customs union with the EU to avoid tariffs on goods and minimize border hassles.
In the endgame, the U.K. might even agree to a form of single market membership, at least for a five or ten-year period. The main parties would not back that now. But if it looked as though the negotiations were heading for failure, sufficient support could emerge.
Daniela Schwarzer
Director of Research, German Council on Foreign Relations
There is a 50-50 chance that two years of Brexit talks will end without agreement. If that happens, the U.K. may remain a member of the European Economic Area to buy time to negotiate a new trade relationship. The disadvantage would be that Britain wouldn't have a seat at the table in EU institutions anymore. So this could only work as a medium-term solution, not a long-term solution.
Mujtaba Rahman
Managing Director, Eurasia Group
Despite the recent turmoil in British politics, the government's Brexit policy has not fundamentally changed. The British government will try to shut down any suggestion that it must soften its approach from the hard Brexit it promised.
However, the transition may now be longer, and perhaps more robust, than originally planned. It could allow for some free movement of labour and the oversight of the European Court of Justice. The U.K. may also push for a form of "associate" customs union membership for a limited period under which it would avoid a hit to goods, tariffs and supply chains, but seek an exemption that allows it to negotiate services deals with third countries.
Lastly, while the "no deal is a better than a bad deal" mantra will be dropped, concluding the "deep and special" partnership the U.K. wants will prove challenging because political elites in Westminster have still not come to terms with the fundamental trade-off with sovereignty this relationship implies. The EU will protect the integrity of its single market: If the U.K. wants a comprehensive trade agreement, the U.K. parliament will have to swallow European regulatory rules and standards.
It is highly unlikely the Tories, indeed the House of Commons, will accept this. But it is equally unlikely the EU will allow the U.K. to have more influence over the direction of its regulations as a third country than it did as a member state.
The more regulatory divergence there is, the less market access the U.K. will achieve for its economic sectors. This suggests the outcome will be a limited free trade agreement which keeps tariffs low but struggles to address the non-tariff barriers that make single market membership so valuable.
Shanker Singham
Director of Economic Policy, Legatum Institute
By March, 2019, I would expect to see progress in the negotiations with the EU. While at this point, I suspect that the end-state of a comprehensive free-trade agreement would not have been reached, substantial progress will have been made on what the framework for that agreement might look like.

Importantly, interim measures to ease the transition from the end of the Article 50 period should by now be in place for a three-year period. These interim measures will include a zero-for-zero tariff deal between the U.K. and the EU, mutual recognition for goods, and mutual recognition of both the U.K. and EU's Authorized Economic Operator programs.
I expect that customs officials in the U.K. will have been doing roadshows with U.K. businesses to explain what their AEO program will look like and how U.K. companies can take advantage of programs to expedite customs clearance.
There would also be interim measures which will cover the disruption caused by leaving the EEA. These would include regulatory coordination councils in financial services, and a number of other areas. Elsewhere, I would expect the U.K. to have made progress on discussions with third countries, including the U.S., Canada, Mexico, Switzerland, Australia, New Zealand, Pacific Alliance countries, to agree frameworks for future trade deals.
The U.K. will have nationalized U.K. laws, regulations and CJEU decisions into U.K. law, but steps will have been taken to evaluate how consistent these various provisions are with U.K. policy priorities.
Mats Persson
Head of International Trade, EY
Even with a coalition with the Democratic Unionist Party, the prime minister is now more or less forced to seek some sort of cross-party anchoring of her Brexit negotiation position, if not in legislation at least in spirit. As a result, the probability of a softer landing Brexit has increased but so has the probability of a chaotic outcome, as there is a risk the clock will run out if U.K. politics become too unstable for functioning talks.
Soft Brexit usually refers to continued membership of the single market (the EEA or Norway model) or entering into a customs union with the EU, or both. But it can also mean a number of other things including, for example, a long transition period, U.K. membership of EU agencies or close regulatory cooperation.
To achieve any of these outcomes, Theresa May will have to compromise on one or more of her key Brexit principles: U.K. control over immigration and trade, EU judges no longer having any jurisdiction over U.K. law and no more large-scale financial contributions to the EU.

Compromising on immigration and free movement still looks politically very difficult—both Labour and Conservatives are committed to ending free movement. Ruling out single market membership apart, possibly, as a transition is also hard.
This leaves the other three, which may suggest that the most likely outcome is still a deep Free Trade Agreement with a cooperation on customs. Given the uncertainty and shaky U.K. politics, there is maybe a 15-20 percent probability of no deal. The chance of reversing Brexit is still very small.
Anand Menon
Director, The U.K. in a Changing Europe
If I've learnt one lesson from the past year, it's never to make public predictions, and never, ever, to say 'never' ever again.
One thing seems clear. For all the talk of the recent election marking a defeat for ideas of a "hard Brexit" (meaning Britain leaving the single market and customs union), neither those charged with Brexit in the Cabinet nor the opposition Labour Party leadership appear to have got the memo. The government will stick to the position laid out by Theresa May before her ill-fated encounter with the electorate.
But what they want is not necessarily what they will get. There are challenges ahead that will confront the government from two different directions. First, there are a number of Members of Parliament, in both major parties (as well as in most of the smaller parties) that want to see a softer Brexit. While they're not going to be given a say now, they will get to vote on the raft of primary legislation that the government will have to take through parliament. Whether the Labour and Conservative MPs who are in this camp will vote against legislation that implies a harder Brexit remains to be seen, but it is a possibility.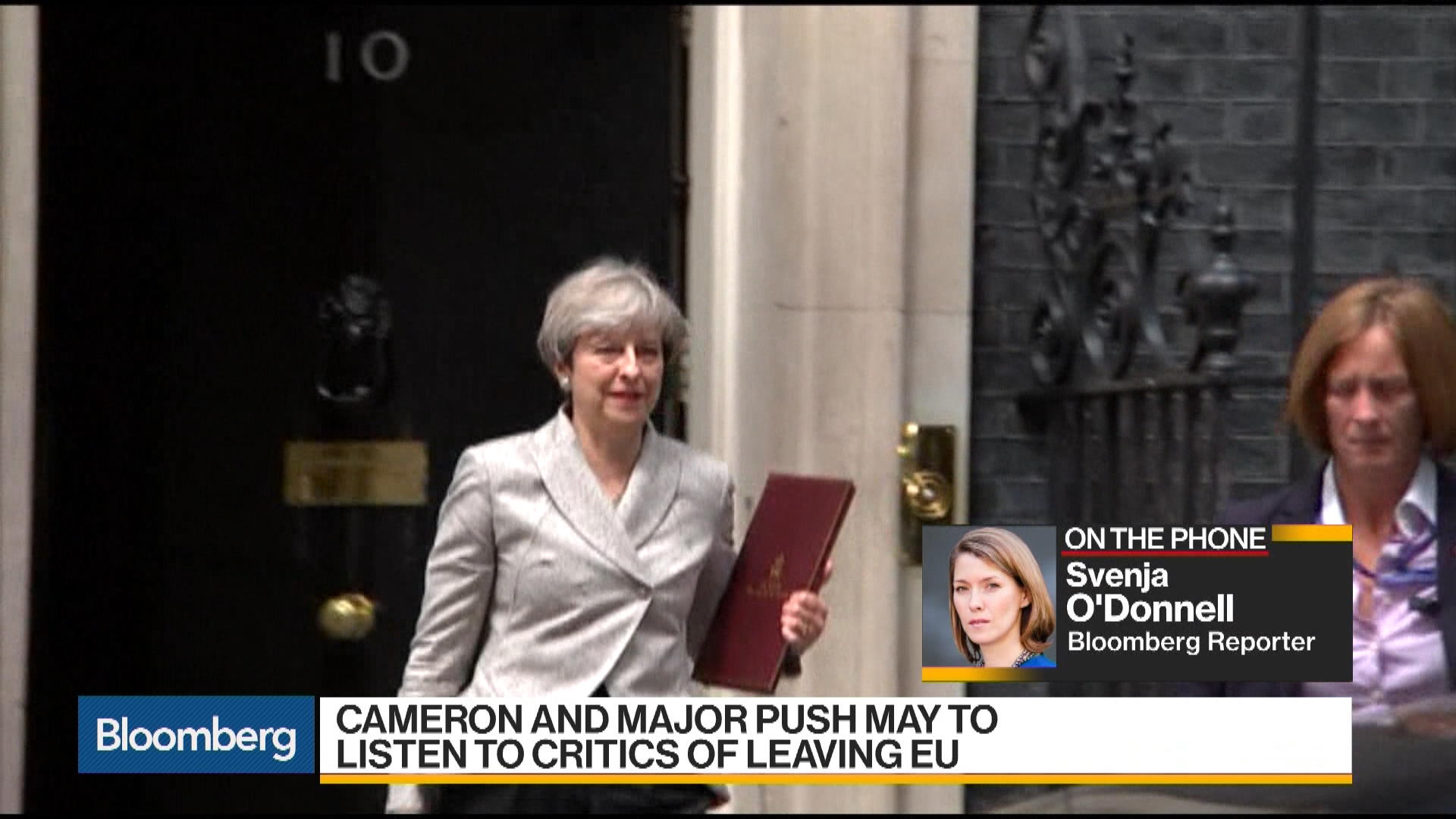 Second, there is the question of the ultimate deal itself. May promised a vote on this, doubtless in the autumn of 2018. If that deal is a hard Brexit, Labour is committed to voting against it. It would take only a relatively small rebellion on the Tory benches to trigger a defeat for the government.
What then? The alternative to the deal is no deal at all—there will not be enough time to negotiate another one. That, surely, might give potential rebels pause. And there is also the issue of what the prime minister decides to do. She will stake what is left of her reputation on this deal. A parliamentary rejection would be fatal for her. So, as the clock ticks down, if she fears the prospect of losing a vote, would it not be in her own, personal, interest to engineer a collapse in the talks and walk away, blaming the EU for the outcome?
On the surface, and paradoxically, it seems to me that recent events have increased the probability of both a softer and a chaotic Brexit.
Daniel Gros
Director, CEPS
Talks will likely accelerate after a slow start and then focus on a deal over a time-limited transition which will end with the U.K. leaving the internal market and customs union although perhaps later for the latter.

The sticking points will be how to resolve disputes during the transition and whether the EU courts will have oversight. While there may need to be a financial contribution for accessing the internal market during the transition that can be rolled into the "divorce bill," allowing both sides to claim victory.
A transition is needed because both sides will realize that there's just not enough time to make a final settlement before March 2019. There will need to be time to adjust to an overall outline of a deal that can be agreed and then needs to be wrapped up. Hopefully a coalition of the reasonable can band together to minimize the pain and cost, but there is a 10 percent chance of no deal.
Phillip Souta
Head of U.K. Public Policy, Clifford Chance LLP
Perversely, I think the election result increased the probability of extreme outcomes. If there is going to be a deal it makes it more likely to be softer than before the election, but on the other hand the probability of no deal at all has increased.
Before the election I thought there was 30 percent chance of no deal, but it still feels about that. Without a proper majority it makes life very difficult for the government and means it's going to have to work across parties.
That makes the process more susceptible to being hijacked by hard Brexit elements within the Conservative Party. Looking at the complexity and time left and the time that's already passed, it may be we just run out of road and it becomes a question of whether the negotiating period can be expanded.

We'll know by autumn whether we have the deal on money, people and Northern Ireland. If we get that deal and then manage to get negotiations on the future trade relationship going then things would have to go quite badly wrong to get a hard Brexit. If we're in stage two by next year then even if it becomes apparent that it wouldn't be possible to finish the negotiations, we'll get an extension of the talks either through Article 50 or a transition.
The softer those talks look the more likely that the government will have its majority circumscribed by the hard Brexit-leaning lawmakers. But then there are soft Brexit MPs too. People are talking about going into the European Economic Area again, but there's still less than 10 percent chance of that.
What may be possible is a more comprehensive, ambitious free-trade agreement that doesn't look like any struck in the past and which allows for more market access than seen previously. If the U.K. is willing to be flexible on its financial position, then that's a good sign for that happening.
Carsten Nickel
Managing Director, Teneo Intelligence
Ahead of the March 2019 general election, Prime Minister Boris Johnson insists that voters are faced with a simple choice: coalition chaos and Britain "ludicrously throwing away its sovereignty" as an European Economic Area member under Jeremy Corbyn; or Conservative stability and the revocation of Article 50 just before the March deadline, thereby "retaining control" as a full EU member with all voting and veto rights.

Our March 2019 scenario should be enjoyed with a pinch of salt and is not our baseline. Nevertheless, it highlights a number of factors behind our take on how Brexit could evolve.
In the slightly out-of-the-box variant, Theresa May continues as prime minister, yet she is eventually replaced on the basis of the deal she brings home in autumn 2018.
A majority of her party deems it unsatisfactory once it dawns on Conservative members of parliament that the EU is serious: the U.K.'s decision to end freedom of movement and court jurisdiction means the replacement of single-market membership with nothing but a comparably basic free-trade agreement. This raises questions over the reasons for leaving the EU in the first place.
On the back of growing voter disgruntlement and with a worsened economy, Johnson blames May for mishandling the negotiations, launches a successful leadership challenge, and calls early elections advocating continued membership in an EU which promises to reform.
What this scenario highlights is, first of all, the heightened uncertainty surrounding Brexit. Even after an election campaign seemingly called over Brexit, the debate about the different options for the future relationship with the EU remains so superficial that decision-makers could end up advocating all sorts of arrangements. The continued promise to prioritize jobs—while at the same time committing to ending freedom of movement and European Court of Justice jurisdiction—is the prime example of the ambiguity and an ultimate lack of seriousness in the domestic debate.
In this scenario, decision-makers utilize this self-inflicted and persistent obfuscation to eventually choose the most radical U-turn and argue for continued EU membership.
Maria Demertzis
Deputy Director, Bruegel
We should be aiming for a good deal for both sides. The process has become much more difficult because of the election which means everything is going to have to be discussed exhaustively.
If the British show they are aiming for a good deal and trying to maintain trade then a deal is possible. The aim should be good outcomes for trade.
How easy it's going to be I don't know. If talks fall apart it means there wasn't sufficient consideration of the outcome. It should not be an option for the talks to fall apart. There will have to be a transition in the long-run. The minimum is a similar arrangement to the customs union, but that's not the best we can achieve. We can do better than that.
Fabian Zuleeg
Chief Executive, European Policy Centre
At the moment we have unprecedented uncertainty on the U.K. side and don't even know if we'll have a new prime minister or new elections.
Broadly there are two options. One is that Theresa May is more willing to cooperate and compromise on some of the key issues and so does a deal on the Article 50 issues—border, legacy payments and citizens in the U.K. and an understanding on a transition deal—and then proves politically strong enough to push that through the House of Commons. Opposition parties will see it as an opportunity to pull down the government and some in her party will see it as a proverbial bad deal. It's possible, but it's a big ask.
The alternative is that there's no deal and in the final outcome the U.K. is still outside the EU. This would be immensely costly for the U.K. It would create the "cliff edge" outcome.

What we do not have by March 2019 in either case is any real outcome what the long-term future relationship is going to look like.
For that, the U.K. would have to compromise even more. The only way can get a deal fast is to agree a Norway-deal in essence, and I don't see that happening. Unless there is a big political turnaround the probability is there will be no deal.
What is important here is this is dependent entirely on the U.K. domestic political processes. In the EU things are very clear. What's on the table is very clear. What counts is whether the U.K. can make compromises and has a government that can push them through the legislative process.
Lucy Thomas
Head of Brexit Advice, Edelman
On the basis of recent experience, only a fool would predict a month ahead in the current climate, let alone almost two years.
What we know for sure is having a comprehensive free-trade deal agreed by March 2019 is highly unlikely. The complexities of what it would involve are huge—on average EU trade deals take seven years to complete—and, it is not even possible to start talking about future trade until the divorce deal (the money, migrants and Northern Ireland's border) has seen "sufficient progress."
This means the importance of a transitional deal post March-2019 is huge. There are increasing calls for the U.K. to remain in the customs union during this or to adopt a similar model to Norway or Switzerland, allowing single-market access. Regardless, a three-year plan would take us to 2022, when the next general election is planned (though could be sooner).
The U.K. could also have requested an extension to the talks, which the EU may agree to, provided the U.K. has played nicely.
On the basis of the opening skirmishes, the general election has significantly weakened the U.K.'s hand. The new unknown is the newly formed parliament and what kind of Brexit might get voted through. Theresa May said an increased majority would strengthen her hand, so now her minority party now has to listen to many factions both within and outside. It will be a delicate balancing act.
Before it's here, it's on the Bloomberg Terminal.
LEARN MORE