politics
On Dirt Bike in Indonesia Jungle, Jokowi Reboots Presidency
By and
President focuses on infrastracture after Jakarta setback

Jokowi remains popular; Indonesia's economic outlook bright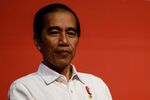 Sitting on a Kawasaki dirt bike with a camera fastened to his helmet, Indonesia President Joko Widodo led an entourage last month to inspect construction of the longest road in the eastern province of Papua.
The fresh rainforest air provided a welcome respite for the president after months of political turmoil. Nearly 3,500 kilometers (2,200 miles) away in Jakarta, his ally Governor Basuki Tjahaja Purnama was spending his first full day in prison on blasphemy charges -- a case that also came as a blow to Widodo, popularly known as Jokowi.

The road in Papua provided more than an escape for Jokowi: It offered a path to reboot and secure a second term in 2019. Many Indonesia watchers see Jokowi's political future tied to his ability to implement a $350 billion infrastructure program and increase living standards for the poor in Southeast Asia's biggest economy.
"If he can deliver most of the things he says he wants to do with infrastructure, that should hold him in good stead going into the contest for a second term," said Greg Barton, a professor of global Islamic politics at Deakin University in Australia. "The attack on Ahok was very much an attack on Jokowi -- it was very much a preemptive strike ahead of the election cycle."
Purnama, widely known by the nickname Ahok, was put on trial for blasphemy late last year after he told voters they were being deceived by people attempting to use Koranic verses to undermine his candidacy in the Jakarta governor race. He was sentenced to two years in jail on May 9, weeks after he lost the vote.
Religious Tensions
The case against a Christian of Chinese descent brought hundreds of thousands of people onto the streets in protests, some of which turned violent, raising concerns that Muslim-majority Indonesia was losing its reputation for religious tolerance. Jokowi sought to quell tensions with a call for unity and public appearances with senior officials from the military, police and other party chiefs.
The victor in Jakarta was an ally of Prabowo Subianto, who lost to Jokowi in the 2014 presidential race and is widely expected to challenge him again two years from now. The win put the opposition in control of a city that contributes nearly a fifth of Indonesia's gross domestic product and the bulk of its finance.
Still, Jokowi has appeared to weather the storm. His coalition in parliament remains solid, the economic outlook is bright and he remains popular with the public.
Jokowi received the backing of twice as many respondents as Prabowo in a survey of 1,350 voters last month by Saiful Mujani Research and Consulting. Public satisfaction with his performance stood at 67 percent.
'Super Happy'
The World Bank forecasts the economy will grow 5.2 percent this year, in line with predictions from economists surveyed by Bloomberg. While that's short of Jokowi's target of 7 percent, it's high compared with other emerging markets.
"Many countries in the world would be super happy to have 5.2 percent," said Rodrigo Chaves, the World Bank's country director for Indonesia. "Indonesia is growing twice as fast as the global economy. That's no mean feat."
Last month S&P Global Ratings raised Indonesia's debt score to investment grade on the back of "a new focus on realistic budgeting" that reduced the risk of widening deficits. That stands to boost inflows even further while Indonesia's foreign reserves have already climbed to a record, reaching $125 billion in May.
In parliament, Jokowi controls about 70 percent of seats, and his coalition partners appear to be standing with him. Golkar, the country's second-biggest political party, joined up with the president last year and credits Jokowi with improving the nation's infrastructure.
"We believe Jokowi will be able to consolidate his support from various parties and deliver in 2019," said Ace Hasan Syadzily, a lawmaker with Golkar.
Highway, Subway
Since the Jakarta election, Prabowo's party has struggled to open up a line of attack against Jokowi. Arief Puyuwono, a deputy chairman of Gerindra, gave Jokowi a "thumbs up" for his management of the economy even while saying he could do more to increase wages for laborers who comprise the bulk of the nation's 260 million people.
Jokowi's immediate agenda over the next few months is passing a revised budget, anti-terrorism laws and regulations that could increase the power of tax authorities after an amnesty raised $11 billion. Over the longer term, he'll look to continue building infrastructure that impacts voters directly.
In Papua, Jokowi is looking to finish the nearly 4,300 kilometer (2,700 mile) road stretching across the province by next year. More difficult may be a subway system in Jakarta, which is now in the hands of Prabowo's allies.
Either way, Jokowi has done much more already on infrastructure than the previous administration accomplished in 10 years, according to Rizal Ramli, a former minister in Jokowi's cabinet who also served as finance minister in 2001. Focusing on economic issues will help him avoid the missteps that led to the defeat of his ally in Jakarta, he said.
"Jokowi lost a lot of political capital because Ahok has dragged him down," Ramli said. "If Jokowi doesn't change, then he might have trouble getting re-elected in 2019."
— With assistance by Rieka Rahadiana
(
Updates with economic forecasts from Bloomberg.
)
Before it's here, it's on the Bloomberg Terminal.
LEARN MORE