May's Office Misled Over Tower-Block Risks, Ministry Says
By , , and
Three blocks have same cladding, not 600 as reporters told

Tests being carried out on blocks to find extent of risks
Prime Minister Theresa May's office gave misleading information about the number of high-rise apartment blocks covered in materials suspected of aggravating last week's fire in west London in which 79 people died, the ministry dealing with the issue said.
A spokeswoman for May told reporters Thursday morning that about 600 blocks across England have been fitted with cladding -- insulating and weather-resistant panels that also improve the appearance of the buildings -- similar to that used on the Grenfell Tower. But the Department for Communities and Local Government said later the figure of 600 applied to all types of cladding.
"The situation is that 600 buildings have cladding; it is not similar, it is all types of cladding," the DCLG said in a statement. "Of these 600, we want landlords to check if they have aluminum composite material (ACM) cladding. Of those 600, some of those would have ACM; we want to test them to see if they have ACM."
The DCLG said initially that only three buildings were affected. A couple of hours later, May's spokeswoman, Alison Donnelly, told reporters that the figure had risen to seven in four local-government areas.
Tests are being carried out on samples from blocks across the country at the rate of 100 a day, May told lawmakers in the House of Commons earlier Thursday.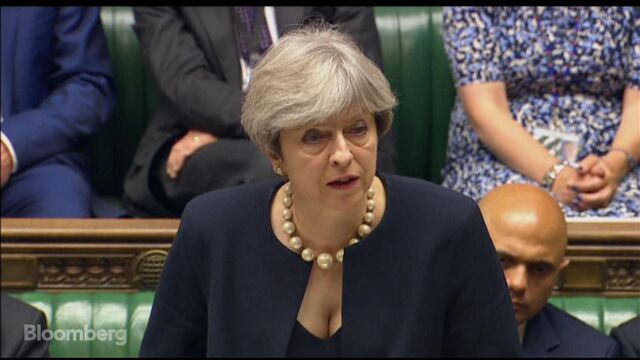 "I've been informed a number of those tests have come back as combustible," May said in a statement about the fire. "I know many others living in tall residential buildings will have concerns about their safety."
Failing the test "doesn't necessarily mean your building is declared unsafe; there will be further tests by the fire service," Donnelly said. "We will be working with local authorities to make sure no one stays in a building that's unsafe."

The police and fire service will make a statement about the role of the cladding in the fire "within the next 48 hours," May said, stressing that people shouldn't jump to conclusions. The prime minister has already announced a wide-ranging public inquiry into the blaze.
"This is part of a criminal investigation," May said. "We must therefore ensure we give the police the opportunity to do the job they undertake and do nothing to prejudice that."
Before it's here, it's on the Bloomberg Terminal.
LEARN MORE