politics
Macron Reports to EU From Frontline of Fight Against Populism
By and
EU must show that it can shield its workers, Macron says

French president seeking progress to neutralize Le Pen threat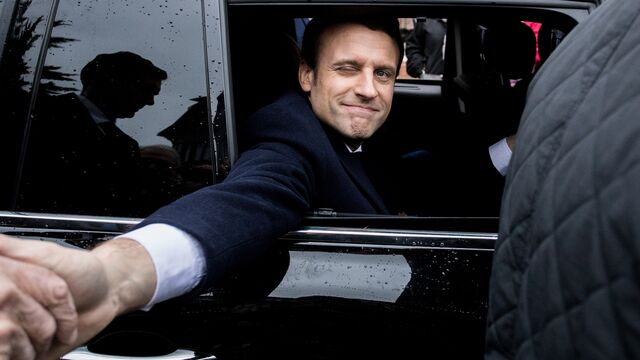 French President Emmanuel Macron heads to his first European Union summit in Brussels Thursday with a message for his fellow leaders: the bloc needs to do a better job of sticking up for its workers.
In many ways the plea reflects France's traditional position with the 28-nation EU. But it's also informed by a bruising presidential election in which Macron was confronted by angry pickets on the way to defeating the populist insurgencies of Marine Le Pen and the communist-backed Jean-Luc Melenchon.

Le Pen, Melenchon, and the 41 percent of French voters who supported them, posed an existential threat to the EU as it confronts the challenge of the U.K.'s departure. Thirty-nine-year-old Macron, the most strongly pro-European candidate in the French race, wants the EU to answer its skeptics with practical policies, rather than dismissing their objections, as it occasionally has in its history.
"What is dividing Europe today, leading to Brexit and sewing doubt in our countries? It is a Europe that is no longer understood by its citizens," Macron said at a press conference Friday with Spanish Prime Minister Mariano Rajoy. "So we won't do Europe that is far from its people, in particular its middle class. That time is over. I lived it during the campaign -- many leaders have. So I can confirm that the Europe that protects is winning ground but it has to be done intelligently not antagonistically."
The question is how far the momentum that put Macron in office -- and the moral authority that victory has given him -- can shape the thinking of other leaders such as Germany's Angela Merkel as they line up together against Donald Trump's assault on the liberal world order.
"Macron needs to be careful about how hard he pushes Germany," said Charles Grant, director of the Center for European Reform in London. "Germany is very happy to have Macron, and happy that he defeated Le Pen. But the Germans are also clearly worried about the balance tipping too far towards French views on things like trade at a time when they are losing Britain as the defender of different sort of thinking."
Free Trade, Climate
EU leaders are expected to reaffirm their commitment to "robust" free trade and the Paris Agreement on climate change when the two-day meeting concludes on Friday. That's a thinly veiled rebuff to the U.S. president whom several EU leaders will meet at the Group of 20 summit in Hamburg next month.
The EU will also seek to deepen defense cooperation through the establishment of a small permanent military structure, amid persistent doubts over Trump's commitment to the North Atlantic Treaty Organization.
But the draft summit conclusions seen by Bloomberg suggest European leaders are also alive to Macron's concern that the EU's principled commitment to free trade doesn't tip over into naivety. Leaders will invite the bloc's executive arm to "examine ways to identify and screen investments from third countries in strategic sectors."
"We must prove that we can defend Europe against those who want to abuse our openness," EU Council President Donald Tusk said in a letter to leaders published Wednesday.
German Offer
Merkel hinted at potential concessions to Macron Thursday, saying that the election result in France and the defeat of populists in the Netherlands two months earlier open "an opportunity for moving Europe forward." That includes French ideas such as aligning corporate tax structures in the euro area's two biggest economies and could even open the door to the much weightier idea of creating a euro-area budget and a joint finance minister.
"One can certainly think about a euro budget, if it's clear that you really strengthen structures and do things with it that make sense," Merkel said. A euro-area finance minister shouldn't be ruled out either as long as shared risks, liability and decision-making "remain at a sensible level," the chancellor added.
Some of the changes that Macron is seeking are already in the EU's policy pipeline. For instance, labor ministers are discussing the changes to the use of detached workers, which typically involve laborers from low-wage, low-tax countries doing jobs elsewhere on the same terms they have at home. In a country like France, higher wages and social charges mean that domestic workers cannot compete.
Macron's Agenda
Similarly, the EU is already discussing ways to strengthen its anti-dumping procedures. Macron has repeatedly said that the bloc needs to be able to react more quickly when faced with foreign companies threatening jobs by dumping goods such as steel in Europe. The EU's anti-dumping team is about half the size of that of the U.S., an adviser to the French president said.
The French president is embarking on a two-pronged campaign, to make his country's economy stronger with more flexible labor markets and also to bolster the European project after years of financial crisis culminated in Brexit and the populist backlash across the bloc. As he prepares to tackle the rigidities of French labor law, that had withstood decades of attempts to change them, he wants to show worried voters who backed anti-European candidates that there can be benefits to EU membership as well.
"If Macron can show he is able to achieve things in Brussels, that may help with the labor-market reform," Grant said.
— With assistance by Ian Wishart
Before it's here, it's on the Bloomberg Terminal.
LEARN MORE