politics
EU's Tusk Invokes John Lennon to Imagine Brexit Can Be Reversed
By and
You may say I'm a dreamer, European Union president says

U.K.'s May will speak to summit on topic of citizens' rights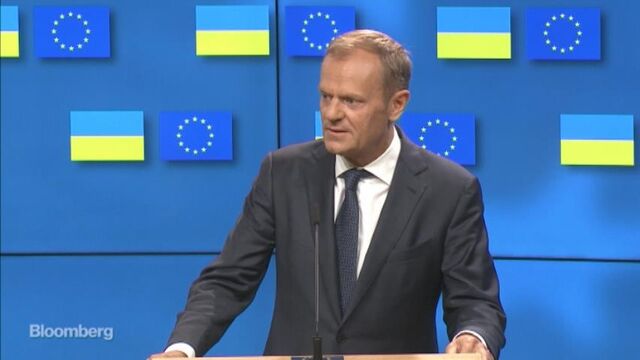 European Union President Donald Tusk held out hope that Britain will reverse Brexit as U.K. Prime Minister Theresa May prepared to meet with the region's leaders for the first time since her election call backfired.
"The European Union was built on dreams that seemed impossible to achieve," Tusk said on Thursday ahead of the two-day meeting in Brussels. "So, who knows? You may say I'm a dreamer, but I am not the only one."
Such hopefulness, evoked in John Lennon's 1971 song "Imagine," looks misplaced for now. Most British voters tell pollsters that the result of last year's exit referendum should be acted upon. May's government shows no sign of wanting to rethink the divorce, although it may soften its approach after the election two weeks ago left it without a parliamentary majority or a mandate for its Brexit strategy.
"We can hear different predictions, coming from different people, about the possible outcome of these negotiations: hard Brexit, soft Brexit or no deal," Tusk said.
For more on what's at stake at the EU meeting, click here
On the eve of attending his first EU summit, French President Emmanuel Macron said on Wednesday that Brexit would be hard to halt now that a schedule for the talks has been agreed upon.
"From the moment when things are committed to a timetable with an objective, it's very difficult to go into reverse, we shouldn't kid ourselves," Macron said in an interview with seven newspapers, including Le Figaro and Le Temps. He pledged that "pragmatism will determine our new relationship" with the U.K.
Schaeuble's Door
German Finance Minister Wolfgang Schaeuble said last week that the U.K. "would find open doors" if it decided to stay in the EU, though it's "not very likely" that the decision will be overturned.
Both sides said this week's opening round of negotiations between U.K. and EU officials were considered to be generally constructive, diplomats said. May will give more insight on Thursday into her plan for how EU citizens living in Britain will be treated after Brexit -- before she is asked to leave the meeting.
"As we said before, our door is still open," Luxembourg Prime Minister Xavier Bettel told reporters in Brussels. If May changes her mind on Brexit, "it's on the U.K. to decide."
— With assistance by John Martens, Arne Delfs, Ian Wishart, Jonathan Stearns, Marine Strauss, Esteban Duarte, Viktoria Dendrinou, Nikos Chrysoloras, Helene Fouquet, and Robert Hutton
Before it's here, it's on the Bloomberg Terminal.
LEARN MORE